Tech
7 Myths & Misconceptions About Human Resources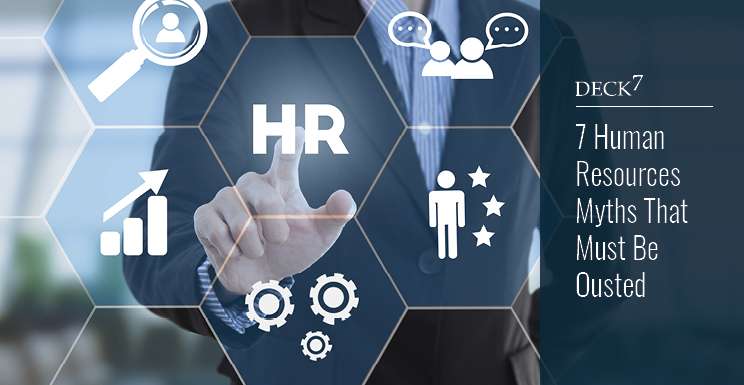 Over the years, HR myths have surfaced continuously. Well, it's as common as emerging trends. People often question the feasibility, viability, and reliability of new roles and responsibilities. 
It's even more in the case of changing duties of new-age CHROs and their leaders. Besides that, at times, it's hard to believe HR activities have better opportunities for automation. 
Other HR misconceptions might include limited HR roles because firms and policy-makers are short-sighted. However, we plan to dispel the same in the blog for new-gen HR leaders to form better policies and instigate a more agile culture. 
List Of Current 7 HR Myths & Misconceptions We Need To Address:
The HR department is too busy to deal with employee issues daily.
One of the strongest and most believable HR myths is this one. Employees with limited experience often perceive that HRs do not care about their issues. If the issue is mental, emotional, or social, it's even more difficult to explain. 
Then, employees think their HRs would put them into PIP or fire them for good. But in reality, it is more expansive right now. HR leaders are trained to understand every capability and competency of the talent they hire. 
Employees often go through different phases like burnout, boredom, and stressful episodes. It's common. HR leaders of modern firms are ready to understand that to build a strong company culture. 
HR leaders don't do anything except hire and fire employees.
HR misconceptions that are emerging today in the grapevine also include this one. Employees from across the world think that new HRs have nothing to do except keep hiring and firing people in the firm. 
But such HR myths are quite half-baked, like a half-truth. HRs today are becoming more strategic as far as their roles are considered. 
These HRs must work closely with the talent they hire, onboard, interview, train, and develop. Each stage of the employee journey has to be mapped out by HR. So, no, HRs of modern firms using special tools like uKnowva HRMS no longer hire and retire their staff.
HR leaders only impose policies by management on employees. 
Many myths about HR revolve around the stringent belief that they are management's watchdogs. These HRs only care about the policies traced and imposed by their management. 
The reality for HRs to form and impose policies is much more complicated. HRs themselves are employees of a firm. They want to maintain a healthy relationship between both parties. Only then can the firm sail through everyday hurdles. 
Nowadays, HRs actively use employee collaboration tools to listen to their employees for suggestions. Contemporary firms no longer focus on what management thinks. 
It's a fact that employees now run the firm to its expected success, but that's when they connect to their job. For that to happen, HRs continue to value and pay attention to their employees' uprising needs and demands. 
Management gets involved with HR to check each such suggestion's feasibility and roll it out whenever necessary. 
HRs don't train employees ever. 
HRs today wear multiple responsibilities. It includes training and developing talent consistently. However, HR myths speak about HRs not paying attention to how talent is nurtured in the firm. 
But that's not entirely true. Talent development, training, and nourishment are becoming a separate or a core sub-branch of the HR function. Now human resources must have teams focused on developing talent at every touchpoint. 
Not every HR leader will be assigned the job of working on the skills and competencies of the employee. But training and development are a core part of the HR function.
It cannot be ignored because employees need to upgrade their skills and knowledge to extend their employability. 
With uKnowva HRMS, HR leaders get the right platform and tools to train their employees at any hour. The scalability of the training and development modules increases using such on-cloud and AI-backed platforms.
 So, we can say that such HR misconceptions are outdated and misguided. 
HRs don't have any relationship with another functional area. 
Another human resources myth to dispel is the rumour that HR leaders don't work with other functional heads. That's entirely wrong and misinformed knowledge. Today, in a growing firm, each department or function gets intertwined. 
HR leaders would not know whom and how many to hire/fire/train/encourage without discussing uprooted talent gaps with other functional heads. Finance departments budget the hiring cost for hiring managers. 
Functional heads give the heads-up as to know whom and how many to hire. The IT department would help set up tools like the uKnowva recruitment engine for automating the process. Operations heads check the process and eliminate unnecessary tasks while ensuring the finances are in control. 
Ultimately, HR persons must balance such demands and prerequisites when acquiring talent from different sources. It's not an easy task to begin. 
The coordination is constant and transparent. It takes place on HRMS tools for faster delivery of each task on hand related to acquisition, empowerment, and development of employees before the next trend emerges. 
HRs are information silos and secretive hubs of the organisation. 
HR myths also talk about HRs being secret hoarders and becoming information silos. That's a baseless rumour and allegation. Every department has some information that they cannot share with another just yet. 
It makes their process smarter, faster, and cleaner. However, companies today are becoming more inclusive and transparent with the right AI-backed HR tools. 
HRs are no longer simply information hoarders or silos. They are compelled and encouraged to work with multiple departments in the firm for scalable decisions. 
They often seek guidance from Finance, IT, Operations, Admins, and Communications' departments for implementing critical and strategic decisions. 
So, no, these leaders are no longer information silos. Rather, they look forward to communicating with other departments and team members to exercise the latent team synergies. 
HR leaders are there to make employee decisions and care only about compliance. 
Myths about HR surround the misconceptions that they only care about compliance and are making employee decisions unnecessarily. Instead, HR persons today offer ESS portals to employees to be self-reliant. 
The system notifies employees on completing all compliance for generating their salaries on time. HRs no longer have to micromanage their employees by encouraging them to upload their necessary documents over the portal. 
Regarding decision-making, HR leaders listen to employees' suggestions and ideas. There can be a suggestion box uploaded on the HRMS. Employees from every corner of the organisation come up with crazy ideas to revamp the culture. 
Later, HR leaders discuss these ideas based on the voting system with the management and other departments. It's necessary to verify the feasibility and applicability of each idea employees wait to get implemented. 
Conclusion:
New HR myths are defaming or disrupting HR teams' roles and responsibilities every day. Educating yourself about human resources is a must if you belong and care about this department. 
It will expand your knowledge and break the bias or halo effect in your mind. After reading this blog post, you will understand the right role HRs are bound to. Their roles are more dynamic, immersive, and propulsive in times of change.