Water Purifier
10 Best Water Purifier Under 20000-25000-30000 Rupees In India 2023
Choosing a water purifier and saying it was the best water purifier depends on many factors, especially in India; we all know that water varies significantly from one place to another. Everybody can't afford high-end Best Water Purifier Under 20000-25000-30000 Rs budget.
Before you buy any water purifier, you need to do in-depth and dept research for it. If you don't know about water purifiers and want to buy the best water purifier under our situated budget segment between 20000-25000-30000 rs, you are in the right place.
A good water purifier removes the excess salts, suspended particles, and microbes and retains its essential vitamins and minerals.
There are many brands selling purifiers in the market, but all the purifiers are not as good as they promised. Just because you don't have proper knowledge about the water purifier and want to buy the best water purifier, don't worry; we help you catch the best purifier.
When most of our body contains 70% of water, then it is our responsibility to drink pure and healthy water. Here we have handpicked some best water purifier under 20000-25000-30000 rs in India with the stunning quality to purify the hardest water quickly.
10 Best Water Purifier Under 20000-25000-30000 Rupees In India
Eating healthy food and drinking clean water every day can keep you fit. However, washing fruits and vegetables in tap water can sometimes invite more harm than benefits.
This LG puricare water purifier will be the best choice for you if you want to drink water and wash fruits and vegetables.
It comes with a 2-in-1 water solution feature, which supplies clean water through its UF filter so that you can wash your fruits and vegetables.
It also purifies the water by using a 5 stage RO filtration system that kills germs and makes the water clean and drinkable.
Design-wise, it looks attractive, and its tank is fully made from stainless steel, making it very strong in terms of body structure.
Its dual protection stainless steel tank keeps the water from germs, dust, oil, insects, and other impurities; this water purifier comes with an airtight sealing tank cover.
You don't have to manually keep a tab of when to change the filters as this water purifier comes with a smart display feature that indicates when the filters need to be changed.
---
A.O. Smith Z9 water purifier is our first choice under 25000 rs. Make your kitchen look aesthetically premium.
The A.O. Smith Z9 water purifier comes with 8 types of different purification stages that help you purify your high TDS water into soft TDS water.
Not just could water, but this A.O. Smith Z9 water purifier provides you with 45*C of hot drinking water and 80*C for cooking.
A.O. Smith's unique mineralizer technology adds essential minerals to the water. So the water has a fresh, natural taste. It also balances the pH necessary for drinking water.
It has an inbuilt display feature that helps you access or alert systems like temperature, tank full notification, filter alert, and power mode.
The translucent level indicators show you how much water there is. So you don't have to guess.
The A.O Smith RO water purifier is made from virgin food grade ABS. It keeps your water clean and healthy.
---
9 Ltr of water storage
20Ltr purification an hour
RO+UV+UF+TDS
In-tank UV technology
Kent Prime Plus is my first choice under this price range. The Kent Prime Plus RO water purifier is India's first come with in-tank UV disinfection technology.
The Smart Kent Prime Plus has a digital display feature that shows water purity to the user. Not only purity levels but also display filter life, RO flow, and purified water quality.
The advanced water purifier comes with a multistage purification process of RO+UV+UF+TDS controlled+UV in-tank purification.
This RO water purifier comes with 1 year of warranty plus 3 years of no service charge only you need to pay an extra 3000 for it.
The water purifier has high storage of 9 liters which ensures a continuous water supply even in the absence of electricity.
Conventional RO purifiers reject a lot of water and retain only a small quantity of water as purified. Kent's save water technology uses a computer-controlled process to recover more water as purified. It has 9 liters of water capacity, but it gives you almost 20liter of water within an hour.
---
Plastic Body Material
7 Ltr of water storage
15Ltr purification an hour
RO+UV+TDS
The Havells Digi Plus water purifier featuring a classy design; the water purifier comes in a silver and black dual-tone color combination. It has a stylish jog dial to dispenses water.
Havells Digi Plus water purifier comes with best-in-class purification technology, 100% RO and UV purification in 8 stages, and double UV that sterilizes water every 4 hours for assured safe drinking water round the clock, revitalizer restructures water molecules for improved hydration and mineral absorption.
It features iprotect purification monitoring that cuts off the water if it is no longer safe to drink. Other features include maintenance and error alert, process indicator, digital clock, and zero splashes hygienic water dispensing.
The water purifier can purify up to 15 liters of water in just 1 hour, and it stores 7 liters of water in it.
---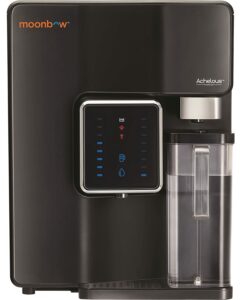 7 Ltr of water storage
12Ltr purification an hour
RO+UV+TDS
Advanced Alert indicator
The Moonbow by Hindware Achelous Premium 7 liter RO+UV water purifier purifies the water in your house by passing it through various stages of purification.
It comes with a Reverse Osmosis filter, which removes pesticides, fluoride, arsenic, and more.
It also ensures germs-free water that is free water that safe to drink. Also, the post-carbon filter makes the water transparent and crystal clear.
Other filters including an in-line sediment filter and an in-line carbon filter. All these features work together to ensure germs-free and hygienic water for you and your family.
The quick notification featured a full tank indicator, filter replacement indicator, failure alert indicator, jug on/off indicator, main facet on/off indicator, and output water TDS level indicator.
Within an hour, it can purify 12liters of water, and in-tank, you will get up to 7 liters of water capacity.
---
RO+UV purification
28Ltr purification an hour
Plastic Body Material
10-liter storage capacity
Water is life, and we can not do without safe and clean drinking water for a healthy life. And how do we ensure that the water we drink is safe for our bodies?
It's clean and safe, free from germs when purified water is obtained from the HUL Ultima RO+UV water purifier. This advanced water purifier can clear 10 million germs from 1 liter of water.
The HUL pureit ultima RO+UV water purifier comes with an advanced alert system, so you need not worry about when your water purifier cartridge stop was working.
The HUL pureit ultima RO+UV water purifier comes with very useful features like a Neon flash belt that lights up whenever the water purifier is used. In addition, the TDS modulator improves the taste of your drinking water.
This HUL pureit ultima RO+UV water purifier comes with 10 liters of water capacity that allow you to purify 28 liters of water in just one hour.
It has a total of 7 stages of purifying technology, including PP Melt Blown, Pre-Sediment, Pre-RO Carbon Filter, Reverse Osmosis Membrane, UV chamber, Post-RO carbon Filter and Microfiltration membrane who purified your water and served clean and safe water.
---
7 stages of technology
15Ltr purification an hour
Plastic Body Material
9liter storage capacity
Drink and pure water every day by using the A.O. smith water purifier. The 8 stages of green R.O. purification in this purifier cleans and purifies water thoroughly and safely for consumption.
It is equipped with 8 stages of green R.O. purification along with Pre-filter+sediment filter+ carbon block+ advanced technology recovery+ Patented side stream Ro membrane+ Min-tech+ ZX double protection dual filter, so this makes the water clean and safe for consumption.
You will get up to 15 liters of purified water at the hour, and it has 9 liters of water storage capacity. This water purifier comes with advanced alert system technology, which automatically notifies you if the filters need to be changed.
---
7 stages of technology
Plastic Body Material
6-liter storage capacity
LED indicator
A water purifier that offers you complete protection from any water condition, the Aquagard genus provides optimum purification for better health.
It is also enabled with AWACS, an in-built warning system that notifies the need for maintenance or cartridge replacement.
The active copper ionic infusion and calcium and magnesium enhance the immune system and taste of the water, which provides a perfect blend of healthy water.
The activated carbon removes organic components and polishes the water, giving it a sparkling look, making it pure and a great test. It comes with a 6-liter inbuilt storage tank, thereby ensuring purified water on tap all the time.
Its user-friendly LED display helps you adjust the purification process to get an optimal taste of your water. It also shows the water level in this storage tank of your water purifier.
Its smart auto-fill technology ensures you about the automatic water filled in the storage tank, so you don't run out of healthy water at any time.
---
This Kent Grand Ro water purifier under 15000 rs is our first pick for you. The most trusted and largest RO water purifier with a transparent design shows off patented Mineral RO technology and inbuilt TDS controller.
The Kent Grand purifier comes with multistage purification technology like RO+UV+UF that removes dissolved impurities, microorganisms such as bacteria, viruses, and salts to make water pure for consumption.
This water purifier comes with technologically advanced purification technology that filters out the water from all the sources, and it purifies brackish, tap, and municipal corporation water easily.
This Kent Grand Water purifier has a computer-controlled alarm that alerts you and indicates filter replacement time and when a UV fails.
It has 8 liters of water storage capacity, but it purified upto 15 liters of water within an hour.
The Kent Grand water purifier comes with one year of warranty and three years of no service charge guarantee. With this, you will get the Installation kit to install the purifier at your home and office.
For water filters, it comes with RO+UV+UF+ TDS purification technology, which completely filters out the hard-to-hard water no matter where from water comes and delivers you pure quality water.
---
8 Ltr of water storage
RO+UV purification
Advance Alert indicator
Oxyblast technology
When you are unsure about the impurities in your drinking water and food, there's a pure Pureit RO+UV purifier to take care of your health. It not only gives you purified water but also gives you purified, healthy, and safe fruits and vegetables.
The HUL Pureit Marvella purifier comes with two different combined functionality water plus vegetable purification systems that help you filter water and remove bacteria and dust from the fruits and keep you healthy.
This HUL Pureit Marvella water purifier safely removes two times more pesticides from the surface of fruits and vegetables because it has innovative Oxyblast technology.
It has 8 liters of large water storage capacity, so it ensures you will get pure and clean drinking water at any time. This purifier purifies up to 15 liters of water within an hour.
This HUL Pureit Marvell comes with six stages of water filtration technology such as pre-sediment filter, Pre-RO carbon filter, mini-filter, reverse osmosis membrane, microfiltration membrane, UV, and Post-Ro carbon filter.
The purifier featured an advanced alert system that alerts you 15 days before the GermKill kitTM expires; along with this, it has auto-shutoff system technology that makes sure you never get impure water.
Conclusion:-
This is the top list of Best Water Purifiers Under 20000-25000-30000 Rs in India. We mention one of the stunning and high-quality water purifiers, so we highly recommended you to buy our suggested water purifier from our link.
If you have any questions regarding this top list of best water purifiers, then feel free to ask anything; we will do our best to meet your expectations. And if you have a better suggestion for us, then comment down your valuable suggestions.
Questioner For Best Water Purifier Under 5000 Rupees
Which water purifier is best in India?
 We mention here the top best water purifiers under the budget of 5000 Rupees. These water purifiers come with stunning purification technology and many useful features that may provide you with pure and healthy water, so we highly recommend buying our situated water purifier because these all are the best in their price range.
What is an RO water purifier

?
RO is Forum is Reverse Osmosis this water purification system work on the membrane and that membrane water passes through this membrane and convert into hard water into soft water.
The reverse osmosis water purification technology moves the molecules from high to low level with water pressure and filters out the water.
What is a UF water purifier

?
Ultrafiltration purification system denoted as a UF water purifier, and this water purifier does not require any electricity to operate. The UF membranes a little bit bigger than the RO system, and it works without electricity to filter out and remove the bacteria.
This UV water purification system's main advantage is that it doesn't require electricity, and maintenance cost is almost low compared to another purification system.
What is a UV water purifier

?
UV water purification system purified water with laser lighting; UV water purification generates laser lighting to destroy unwanted elements in the water. These UV lasers kill harmful bacteria and softly removes and reduces chlorine.
What is TDS in a water purifier

?
TDS stands for Total Dissolved Solids. The TDS system counting and measure the soft or hard water level in a single high level. TDS means that the water is hard, and low TDS levels imply that the water is soft.
What is MTDS in a water purifier

?
The water purifier works with different purification systems; this MTDS regulator ensures your process work perfectly and controls the TDS up to 2000mg/its.
---
First, I will tell you a few things to keep in mind before buying a water purifier for your Home. I would suggest you read the steps I had mentioned below to make the right decision.
I will list the things to keep in mind first, and then I will explain in detail each step. So that would make things simple and clear to you.
Source of Water coming to your Home

Hardness or TDS level of Water you have

Purifying technologies available

Purifying technologies needed for your Home

After support provided by the Brand of water purifier
So let me start to explain in detail about each thing mentioned above.
Best Water Purifier Buying Guide: Deep in Debt
Source of Water coming to your Home
The primary factor in buying a water purifier is knowing which type of Water is used in your Home. Water from different sources has a different level of bacterias or microorganisms, which may be harmful to your health and dissolved salts that are not required for your body.
The purifier must also help remove heavy metals like lead, arsenic, mercury, etc., from the Water. The heavy metals should be removed as the immune system cannot remove them, and they will start accumulating in our body, causing health problems.
Some water sources may contain very harmful bacteria, viruses, and germs, which may cause water-borne diseases like cholera, typhoid, etc. I would prefer you to choose a water purifier by keeping all these in mind and not going for a cheap and low-quality water purifier. It is a matter of your health, my friend.
Just calculate how much you might spend on doctor fees and medications if you get ill. So choose wisely. Below I will provide you with details on the source of Water, microorganismmicroorganism level, hardness, Water, etc. Details below are from water sources in India.
Underground or Borewell or Tanker Supplied Water
Harmful Micro-organism Level

 – Very High in Bacteria, Virus and other Germs

Hardness or TDS level

 – Hard Water and Very High TDS

Recommended Purifier

 – RO+UV Type Underground or Tube Well or Salty Water

Harmful Micro-organism Level

 – Bacteria and Viruses are Low

Hardness or TDS level

 – High hardness and TDS level

Recommended Purifier

 – RO Type Source from Surface Water like River, Lakes or Rain Harvesting Plans

Harmful Micro-organism Level

 – Low germs, bacteria, and viruses in Water.

Hardness or TDS level

 – The Water will be soft

Recommended Purifier

 – UV or Ultra Violet Type
Hardness or TDS level of Water you Use.
In the above table, I had mentioned a technical word that is TDS or Hardness of Water. The full form of TDS is Total Dissolved Salts. TDS helps us to calculate the hardness and softness of Water you use. The Water we get from well, or tank suppliers contains a lot of salts and impurities. These must be removed from the water as it is harmful to our body.
These impurities even include heavy metals like lead, mercury, and very harmful arsenic. Our body's immune system cannot remove the heavy metals, so we should purify the Water from these and use them. The stacking of these heavy metals in ou body may cause health issues and reduce our lifespan. These are very much harmful to children in the long run.
This is where the RO purifier comes into action. The RO purifier cleanses the Water and makes it fit for drinking.
So now, How to check the Hardness or TDS level of Water manually?
To check the hardness and TDS of Water, you must buy a TDS meter, which you can easily buy online. TDS meters are not that costly to buy, and it ranges between Rs.350- Rs.1000. I would recommend HM TDS Meter or Divine DI-003 TDS Meter, which will cost you around Rs.300 to Rs.500. People prefer this because of the accuracy these products provide. In my home, we had used HM Meter personally, and I guarantee you that. HM TDS Meter also shows you the temperature reading.
Note: I would recommend you to buy a TDS meter so that you can check the purity of Water even after buying the purifier. This will give you an idea about when to service your purifier.
Below is the TDS reading showing the purity and hardness of water; you can use it to check.
TDS Reading and purity of Water you Use
0-80 – Ideal Drinking Water and Very Soft Water

80-15 – It is soft water and can be used for drinking

150-400 – Hard Water and use an RO Purifier

400 and Above – It is Very Hard Water and uses a RO+UV Purifier
Purifying Technologies available in Best Water Purifiers
I will list down the best purifier technologies used, and then I will explain each of them. That will be better for you to understand easily.
Technologies available in the Best Water Purifiers:
RO or Reverse Osmosis Technology

UV or Ultra Violet Technology

UF or Ultra Filtration technology
Now, I will tell you in detail about each technology used.
RO or Reverse Osmosis Technology
This technology is used in water purifiers, which are used to purify Salty, Hard, and High TDS Level water. This technology converts high TDS and Hard Water to water fit for drinking. Water is passed under high pressure through a semi-permeable membrane to remove even minute impurities in this process. RO water purifier needs electricity and produces a lot of wastewater.
UV or Ultra Violet Technology
In this process, a rod is placed inside the body of a water purifier, which continuously produces UltraViolet radiation. The UV radiations are made to pass through the water, which destroys the germs in the Water. This technology mainly helps kill germs, bacteria, viruses, and other microorganisms present in the Water. They do not remove dissolved salts and impurities.
This technology uses electricity, but it doesn't produce wastewater.
UF or Ultra Filtration Technology
In this process, threads of microfibers are used for filtration. Water will be passed through the microfibers threads, which will remove the impurities like salt from Water. This process is mainly from plants and trees, which use its root fibres as filtering water.
Which Purifying technology do you need?
Guess you know the hardness of Water you use now. You can check with these purifying technologies below. I had mentioned which is best for all kinds of Water.
1. RO Water Purifiers: are used for purifying Water with high salt, which is harmful to health. They use a semi-permeable membrane for the purification process. I had mentioned the RO technology in the above section.
2. UV Water Purifiers: is used mainly to make the water germ free and fit to drink. UV Purifiers keeps us away from viruses, bacteria, and other microorganism microorganisms, which cause diseases like typhoid, cholera, etc.
3. Water purifier using gravity: It is one of the best water purifiers in India, which doesn't need any electricity. These pure pressure, severity, and chamber based technology. The water will flow from an upper chamber to a lower chamber. In between both chambers, a germ-killing kit will be fixed, which purifies the water. Gravity based water cleaners are suitable for cleaning soft Water, which contains very low dissolved salts. You can purchase these purifiers at a very reasonable price ranging from Rs.1000 to Rs.4000.
4. Technology Fusion: These are universal purifiers that use a fusion of technologies. This kind can purify all types of Water purifier. It uses RO, UV, and UF technologies together to give you the best and clean Water to drink. This water purifier is a fully automatic purifier which even checks the water level and uses the best technology needed for the type of Water. Universal purifiers remove all germs and dissolved salts from the Water.
Brand Genuity and After Support
The final and essential step for buying a water purifier in India. After you decided which water purifier to buy, next is to determine what Brand of water purifier to buy—most of the people at this stage go for the cheapest Brand. My dear friend, when it is related to health, go for the best brands. Small brands will be using inferior quality materials. So go for good brands.
After two or three months of purchase, you want to get the purifier serviced. This is the main reason I recommend going to good brands. Big brands give you superb after-sales support. Yes, it will indeed cost a bit extra for the big shots, but keep in mind it is worth it. More prominent brands also use high-quality membranes, filters, and germ kills, which run for a more extended period.