General
Revamp Your Living Room: Explore Entertainment Unit Options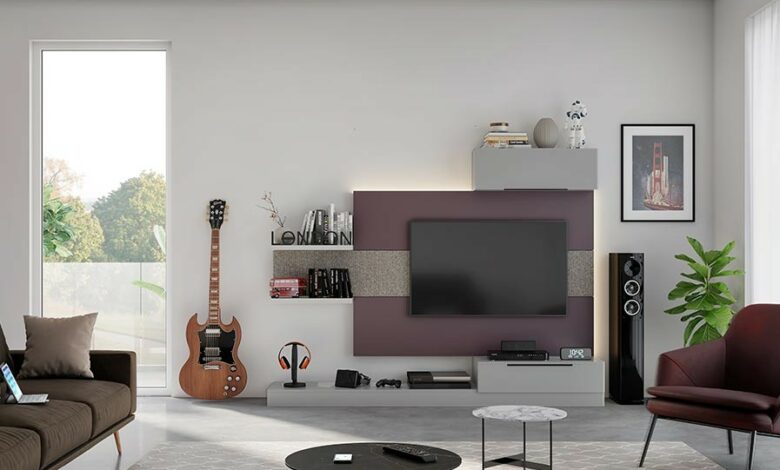 The living room is often the heart of the home, where family and friends gather to relax and enjoy entertainment. An essential living room component is the entertainment unit, which houses your television and is a stylish focal point. This blog will explore the top types of entertainment units to consider. Whether you prefer a sleek and modern design or a long tv unit, there is an option to suit every style and space. Dive in and discover the perfect entertainment unit to elevate your living room.
Wall-Mounted TV Units: Maximising Space and Style:
Wall-mounted TVs are popular for modern living rooms, offering a sleek and space-saving design. These units typically feature floating shelves or cabinets that store media devices and accessories while keeping the floor area clear. Wall-mounted TVs create a contemporary and minimalist look, allowing the TV to become a centrepiece without overwhelming the room.
Entertainment Centers: Versatile and All-Inclusive:
Entertainment centres are comprehensive units that encompass storage for the television and various media components, such as gaming consoles, sound systems, and DVDs. These units often feature multiple shelves, cabinets, and drawers to accommodate all your entertainment essentials. Entertainment centres come in various styles, from traditional wooden designs to modern and modular configurations, offering functionality and visual appeal.
Long TV Stands: Showcasing Style and Functionality:
A long tv unit is ideal for larger living rooms or those who prefer a more substantial piece of furniture. These units typically have a wide surface to accommodate large TVs while offering ample storage space. Long TV stands often feature open shelves or a combination of shelves and cabinets, providing room for media devices, books, and decorative items. They come in various materials and finishes, allowing you to find the perfect match for your interior style.
Media Consoles: Streamlined Organisation:
Media consoles offer a streamlined and organised solution for your entertainment needs. These units are designed to house media devices, with dedicated compartments and cable management systems to keep cords hidden and organised. Media consoles are compact and versatile, making them suitable for smaller living rooms or as an additional piece alongside other furniture. They come in various styles, from sleek and contemporary to rustic and industrial.
Custom-Built Entertainment Units: Tailored to Your Needs:
Consider choosing a custom-built solution for a truly personalised and unique entertainment unit. Custom-built units allow you to design the perfect combination of storage, display, and aesthetics to fit your living room space and specific requirements. Working with a professional furniture maker or designer, you can select the materials, finishes, and layout that align with your vision and style.
Floating Shelves: Minimalist and Stylish Display:
Floating shelves offer a minimalist and contemporary approach to displaying your TV and entertainment accessories. These shelves, mounted directly onto the wall, provide a clean and uncluttered look while showcasing your TV as a focal point. Floating shelves can be combined in various configurations to create a unique display, incorporating decorative items, artwork, or plants to add personality to your living room.
Built-In Units: Seamlessly Integrated Design:
Built-in entertainment units seamlessly integrate into your living room's architecture. These units are custom-designed to fit within existing wall spaces, creating a cohesive and harmonious look. Built-in units can incorporate a combination of shelves, cabinets, and niches to accommodate your TV and other entertainment components. This unit provides a clean and polished appearance, maximising functionality while maintaining a stylish and sophisticated aesthetic.
Choosing the right entertainment unit for your living room is essential for creating a functional and stylish space. Whether you opt for a wall-mounted TV unit, an entertainment centre, a long TV stand, a media console, a custom-built solution, floating shelves, or a built-in unit, each type offers a unique blend of functionality, storage options and design aesthetics.