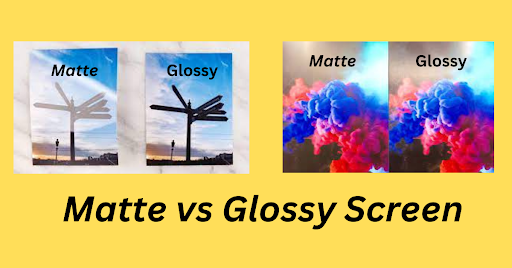 In today's society, the common computer is a vital component of many people's daily life. It is no longer the costly luxury of the wealthy few; rather, it has become an important part of the majority of enterprises and a pleasant addition to many homes. The raw power and adaptability of the desktop PC are still unparalleled, even in the face of the computer's continued miniaturisation and the adoption of cutting-edge portable designs like the Tablet PC and integrated "all in ones." One important aspect of the modern desktop PC that sets it apart from previous predetermined and somewhat rigid alternatives is the presence of a base unit (typically a tower) with easily upgradeable components.The typical inclusion of a separate monitor with such a matte or glossy screen, which has underwent the same "evolution" as the rest of the PC and will do so going forward, is another distinctive feature. Along with portable laptops, gaming consoles are becoming more and more popular companions.
One key aspect of many display technologies, the screen surface, is frequently addressed despite the fact that producers frequently misrepresent them and consumers frequently lack comprehension of them. The screen surface represents the crucial visual interface between the user and the monitor and is easily apparent on the outside, in contrast to what is "behind the hood." The current display is not constrained by a hard, highly reflective glass surface, unlike CRTs of the past. The screen surface's nature is far more adaptable and comes in a variety of shapes with variable degrees of anti-reflection or "glare busting" qualities.However, like with other display-related issues, there are some limitations to the widely used "anti-glare" materials. We examine the options and potential future directions for the computer monitor surface as well as the shortcomings of some of the most widely used "anti-glare" systems.Let's get started to know more about Matte vs Glossy Screen .
Matte vs Glossy Screen
1. Matte screens
An exterior polarising layer (or non-polarizing covering for some screen technologies) on a matte screen surface has been coarsened via mechanical processing, and occasionally further chemical processing. The production of this surface typically involves multiple passes of "dip coating" or multi-layered "spluttering," which may be accompanied by chemical surface treatment. We will take into consideration the desired outcome of this processing, even though it is not required to delve into the specifics of these coating methods. This will provide the screen surface with a matte quality, which diffuses the light source rather than reflecting it back at the observer; a smooth surface behaves something like a mirror. The reduction of glare caused by the diffusing of ambient light is desirable, but it is not a foolproof fix. Because of the surface's dual-directional optical qualities, light emanating from the monitor is likewise impacted. Additionally, there is some interference between the diffused incident light and the output light. The diagram below depicts the movement of both ambient and monitor-emitted light as well as how it interacts with the matte screen surface.
While the desired decrease in glare is achieved by external light's scattering, the monitor's image is also impacted by this diffusion process. The process is made worse by the diffused ambient light, which also slightly distorts the image displayed on the monitor. The table below summarises the effects this has on the image as well as the advantages associated with a matte screen surface's ability to reduce glare.

2. Glossy screens
This smooth surface has a tendency to reflect ambient light back rather directly rather than diffusing it, leading to unpleasant reflections and sharp areas of glare, especially under strong direct light. On the other hand, a robust diffusion process does not interfere with the light that the monitor emits. Additionally, the image appears richer, more brilliant, and pure when reflections are removed. A chemical anti-reflective (AR) coating, such as magnesium fluoridated water or specific polymers, is frequently used to treat contemporary glossy films. These coatings help to some extent with ambient light absorption. In what is known as an "Ultra Clear Panel," some of Samsung's glossy models contain silver nanoparticles infused into the screen surfaces. This is intended to help with some ambient light absorption slightly more than a conventional anti-reflective chemical coating despite impairing image quality.
The image below compares how well a Dell Studio XPS15 laptop's untreated glossy surface and a Samsung T27A950's Ultra Clear Panel fare under a somewhat sunny British summer's day. Although the idea of a British summer is not very major in the context of this picture, it is crucial to note that when the pictures were shot, it was pleasant and bright and even a little bit sunny. but shortly after it became gloomy and wet. Right beside the monitor, a window lets light in, but there isn't any direct sunlight hitting the screen.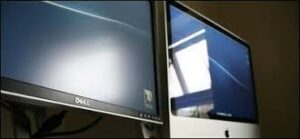 The image up top shows how both screen surfaces in these lighting conditions exhibit reflections. The red computer chair, camera, door, and cameraman's hand and forearm can all be made quite clear in the more intense reflection on the Dell.Dell's image does not appear scrubbed in this way under low-light viewing conditions; this is caused by the relatively strong ambient light, a problem that Samsung does not share. Both monitors were set to a brightness of 160 cd/m2, and Samsung does not share this problem. Anti-reflective surfaces that are frequently used on laptops and occasionally on bigger displays include Sony Xbrite, HP BrightView, ASUS ColorShine, and Dell TrueBright. Compared to the Dell that hasn't been modified, these reflect a picture that is darker.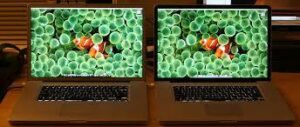 The Ultra Clear Panel is still primarily a glossy surface despite this minor decrease in reflections and darkening impact. Reflections are still a problem and lighting effects need to be more carefully managed when showing blacks and dark colours (or even brighter colours if ambient light is bright enough). It may be suggested that the brightness be increased to assist counter this, however regardless of the brightness, the relative luminosity of dark areas—especially blacks—is significantly lower than that of bright areas.If it wasn't obvious from the combined image above, you won't be fooled into thinking that when the monitor is turned off, this is something other than a shiny screen surface. The picture below, which was also taken on a sunny summer day, shows this. Even if the room's reflection on the Samsung is slightly darker than it is on the Dell, the items still exhibit distinct detail.

Conclusion:

 
Glossy screens work better indoors, in our opinion. Perfect for you if you're using a laptop to read websites, videos, photos, and play games in a dimly lit, glare-free environment.but for matte screens it's diffuses the sharp edges, evens out or normalises the colours, lowers brightness and crispiness of the picture.
This was all about the experience I had on Matte vs Glossy Screen
on mobile in pdf format. While going through this article you may encounter many more queries on Matte vs Glossy Screen on mobile in pdf format, then we request you to let us know that and we will try to help you at our earliest.