Games
7 Awesome Free Archery Games To Play On Mobile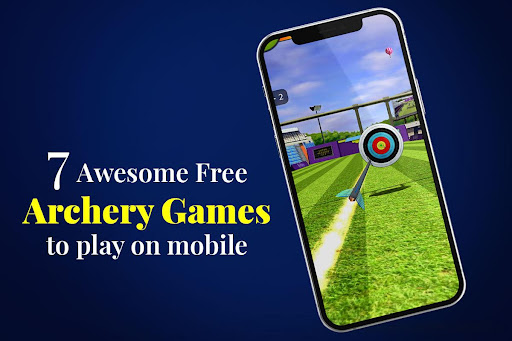 Archery is one of the oldest sports for mankind, and it has even made a place in the Olympics and world games. The evidence of archery dates back to the palaeolithic period, around 10,000 BC. So you can understand that this game dates back years ago when people used it for wars or for hunting food.
The history of this game is rich, even in India. As far as games are concerned, archery first occurred in the Olympic Games in 1900. In India, evidence of archery has been found in the Vedic era. It was mainly used for hunting. There are various styles of archery, and the ranges of bows and arrows have evolved with time. Archery was replaced by other weapons that were used for wars. 
Several people worldwide practice archery even today, and it is known to improve focus and even help in practising reliance and patience.
For playing archery, you need complete control, and you have to be precise. And these days, online archery that you can play on virtual gaming platforms has also become extremely popular. This is mainly because you can practice patience and self-reliance while staying at home. You can play archery game cash contests but playing free ones, in the beginning, makes more sense. 
You can be in your pyjamas and play online archery. You can come across several other archery enthusiasts through online platforms as well. All you need to do is download an application, register yourself and start playing. The best thing is that you can even win real cash prizes by playing archery. This fantastic game, which has a rich history, can be played on several leading sites. This blog will mention 7 free archery games that you can play and enjoy. All of these games come with an excellent user interface and will enrich your experience at every stage.
You will not feel like going out and spending money when you have online archery to keep you engaged for hours. It is the perfect game to play between work or during the stay at home weekends. Archery is supposed to improve hand-eye coordination social skills and even boost your confidence level.
MPL Archery Clash:

Listed as one of the coolest

archery game

online, MPL Archery Clash lets your archery adventure begin from here, and once you start, there is no going back! This highly competitive, and adrenaline-driven game comes with an amazing interface that makes your gaming experience a top-notch one. Explore and play multiplayer battles and tournaments and make the most from your on-field action of Archery.

Archery master:

The second free game available on the Google Play store is one of the hottest and most realistic archery games for you. The name is Archery master. This one also comes with an excellent user interface and is played by thousands of archery enthusiasts. You can download the apk version as well.

3

. Archery battle:

Archery Battle is another application to download for archery enthusiasts because you get to play in beautiful locations. You can compete against players in real-time who are sitting across the Internet. The simple and intuitive control and real-time gameplay have our hearts. It makes it to the list of our top archery applications.

Castle war: Empire archer:

Another archery game that you can play for free on your mobile is Castle War: Empire Archer. You can choose from various kinds of arrows to target various enemies. The game is addictive and great for practising. So before you go ahead and play the cash contests, we suggest you play this game.

The Archers 2: Game with Bow

: This is another casual game for skilful archery enthusiasts. It would be best if you had the complete concentration for this shooting game. There are multiple Archer wars on this platform to play and hone your target skills. You can play this alone or even invite your friends to play it with you. We know that multiple gaming enthusiasts are socializing through gaming platforms in the current situation.

Archery Bastions

: This is another free archery game that you can play on mobile. You have to build a Bastion and then play with your army of Archers. It is super fun and keeps you engaged. If you have been facing difficulty concentrating or just don't know how to get away from your work from home, Blues, we highly suggest playing this game. 
All you need to do is download it on your mobile. You will thank us for suggesting you this game.
Archery Elite

: Archery elite is another 3D stimulation clash game. You will get plenty of shooting galleries, animations, etc., which will make you feel that you are playing the game in the real world. Clash games are great for improving your archery games.
If you think big and want to make money by playing archery online, become the best Archer in the virtual shooting world by practising these free games. So these are a few games that you can play online if you like the concept of archery. 
Stay at home, stay safe and engage on online gaming sites! Experts say that gaming sites are the new social media. To know more about this topic, go through this Forbes blog. Gaming enthusiasts can now enjoy their favourite games with the best user interface at these sites.