Action Camera
5 Best Action Camera Under 5000 Rupees In India 2023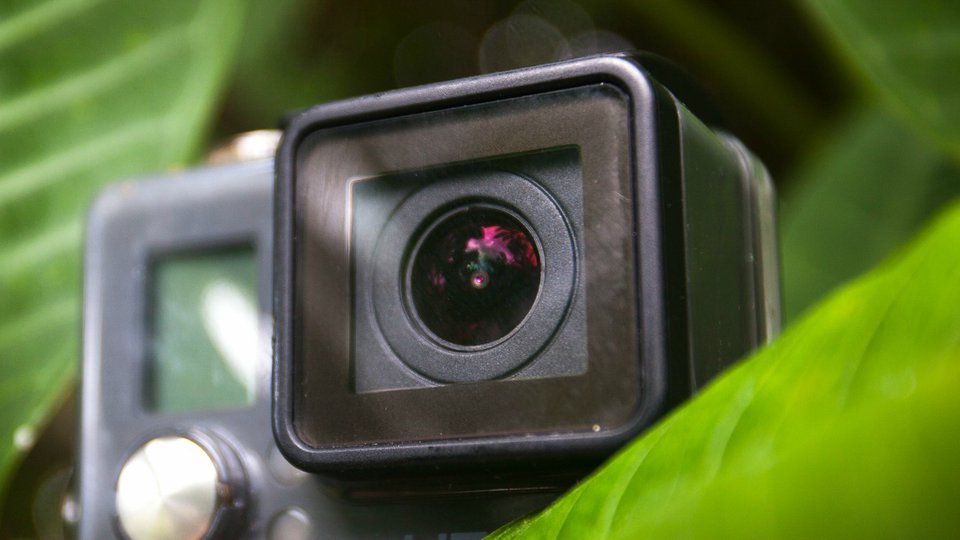 When it comes to choosing the perfect action camera for you, there are several preferences to take into consideration, and surely, there are many for everyone. What makes Action Camera so unique? It's three words:  manual control, handy use, and over-the-top photo quality.
The other feature which makes action cams so attractive is the fact that these are the cheapest professional cameras on the market today, despite being just as high in quality as other types of cameras. As reamin the topic we here mention top best action camera under 5000 rupees budget range that may helps you to grab the best one.
If you want to choose one action camera for your day to day work, so you need to consider many points before you grab any. It depends on you where you want to use action cameras. Do you need waterproofing, shockproofing, slow motion, a front-facing screen, or ultimate mounting flexibility? It's worth taking some time to familiarize yourself with all these different action cams and what they offer.
5 Best Action Camera Under 5000 Rupees In India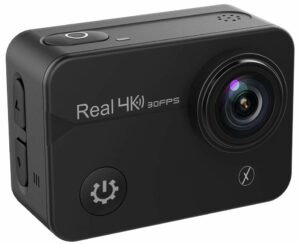 Waterproof up to 40m

Multiple Recording formats

Touch Screen Display

16 MP Ultra HF Format
Xmate Stunt Pro camera is one of the best action cameras under 6000 of the budget which can record in multiple formats like 4K, 2.7K, 1440P, 1080P, 720P, and MP4 also it can click photos in different modes like single shot and snapper and delivers good quality videos and photos.
This action camera can also record and capture breathtaking moments underwater up to 40m (131 ft) as this is made for challenges and adventure. This camera is compact and lightweight so you can easily carry and use it anywhere.
The 2 inch HD touch screen display shows you the vivid and crisp videos and high-resolution photos also the touch screen display allows you to control and operate the powerful action camera super easy as you can change the settings, shoot, preview, and many more functions with just one click.
The features come along with this action camera is so advance as this is one of the best options to record or capture fast-moving objects. You can stabilize the image and videos with the help of built-in electronic image stabilization and a 170 degree wider angle lens makes it a perfect choice for filming the most adventurous moments and keep it as a memory.
This action camera comes with 2.4 GHz remote control (not waterproof) so you can easily shoot up to 10 meters by remotely controlling your action camera with the help of your remote. The rechargeable battery of 1350 mAh allows you to record up to 120 minutes nonstop.
---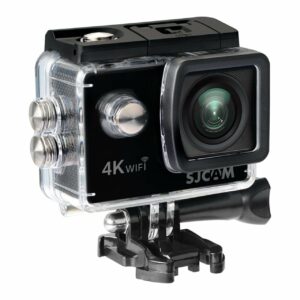 4K FHD Camera
2.0 LCD Screen
Waterproof up to 30 meters
Compact Pocket Size Camera
This SJ4000 air action cam is a smart option for you that can record and capture ultra HD 4K videos and photos. This action camera is so lightweight and The design is so elegant and lightweight which you can easily carry anywhere along with you.
This action camera can restore every detail for you so you don't have to worry about it, also it is designed the way so that you can use it easily as per different occasions without any hassle. This smart cam is so compact which you can fit inside your front pocket comfortably.
This action camera comes with an adjustable 170-degree angle lens which provides a wider and clear view. It delivers a clear resolution image of 16 MP, 12 MP, 8 MP, 5 MP, 2 PM, and higher video resolution of 4K 2.7K along with other resolution options which you can view on 2.0 LCD screen display.
This 4K action camera will experience you to enjoy and capture your most thrilling moment even underwater up to 30 meters of depth and the built-in WiFi will allow you to share the data quickly to your mobile device without any hassle and you can edit your favorite pictures easily.
This action camera comes with 6 shooting modes named as VideoLapse, PhotoLapse, Burst Mode, Car Mode, Underwater Mode, and TV Mode so you can select the mode as per the situation demand and capture the best and top quality videos and photos with the help of this 4K action camera.
---
Ultra HD 4K Camera

Multiple Image Resolution

Water Proof up to 30 Meters

Dual Rechargeable Battery
This action camera by Campark is an affordable option for those who all are looking for the best action camera under 5000 of budget. This Ultra HD 4K action cam will allow you to record and click more sharp videos and photos which experience you more lifelike than ever.
The action camera is packed with lots of interesting features like time-lapse, slow-motion mode, loop recording, and a lot of others that can record and click any moment for you. The image resolution is very important in case of cameras so here this action camera comes with multiple image resolution like 16M, 12M, 8M, 5M, 2M.
This action camera comes with built-in WIFI and with the help of HDMI port, you connect your action camera with your smart TV and watch your videos and photos on a bigger display. With 170 degrees adjustable wider angle lens, you can capture every moment in detail by adjusting various angles like 170 degrees, 140 degrees, 110 degrees, 70 degrees, etc.
You can go up to 30 meters underwater to capture your most amazing underwater moments. It comes with a waterproof case so this watch can be your perfect underwater associate while doing water sports adventure activities.
This affordable action camera price I have already shared with you above and it comes with dual rechargeable lithium batteries which increases the battery life up to 180 minutes so you can easily shoot or capture the perfect moment without getting worried about the charging issues. This action camera comes with multiple accessories that help you to mount the camera on your helmet, bicycles, wrist, etc and shoot with all comfort.
---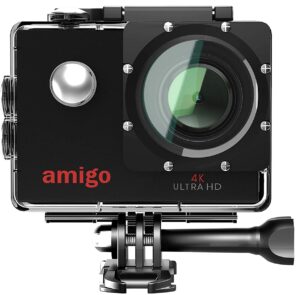 4K Ultra HD Action Camera

Wide Angle Lens

30 ATM Waterproof

Clear Visibility in Extreme Conditions
Amigo offers you this AC-40 4K sports action camera which is available in two categories of 12 MP and 16 MP. This action camera is one of the best sports action camera for the sports enthusiast. This action camera is a perfect companion for your outdoor activities and sports events.
You can record more realistic videos and images with this action sports camera. You can comfortably use it for hiking, trekking, cycling, driving, and many more outdoor activities as it comes with a complete accessories kit for you and a wider angle lens gives you the perfect and wider frame with detailed and clear capturing.
Built-in Wi-Fi enables you to connect your camera directly with your phone and also live to stream your moments to the world. You can carry this camera for under water sports activities like deep-sea diving, snorkeling, swimming, and surfing with other activities up to the 30 meters of water depth.
Stabilized image and videos is an important feature when it comes to action cameras so here this action sports camera comes with EIS- No Shaking features which provides you videos and images with high stability while driving, biking, walking, camping or hiking.
This action sports camera can support micro SD card up to 64 GB but it is not included in the kit, you have to buy it separately this SD card feature provides you space to store the recorded videos and captured images. This camera comes with 2 inches non touch LCD screen which gives you clear visibility and brightness under extreme conditions like dark light, underwater, snow, and extreme sunlight.
It has a built-in microphone for sound support so that you can record the videos easily along with the sound so this is one of the cheapest 4K camera available in the market.
---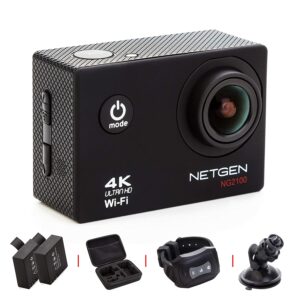 60fps Recording Frames Rate

Wider Viewing

2 Inch LCD Display

IP68 waterproof Case
This V-CAM action camera is an ultimate option because it has recording frames rate up to 60fps which makes this action camera different than many others. After all, they can go up to 30fps. This V-CAM action camera provides a crisp and clear image and videos.
The upgraded powerful Wi-Fi enables your phone and camera to connect easily and share the videos and photos quickly also you can view the live images and capture photos and record videos. For your comfort it comes with 2.4G RF wrist remote so now you don't have to remove the camera again and again for any operation.
With this camera, you can preview the live shoot over the 2 inch LCD. You can easily and quickly find the setting menus with the help of the user-friendly interface. The different settings and modes are inserted into a single menu so that the user can easily operate it.
It comes with a 170 degree wider angle fish eye lens so that you can see every minor action in detail by providing you crisp and clear results. This online action camera is not just specialized for shooting and recording modes but also for indoor anti-theft, driving record, outdoor sports, etc. with the help of unique features like time-lapse, burst shot, loop recording.
V-CAM is one of the best 4K action cameras which is equipped with IP68 waterproof case so you can take this action camera under the 100 feet of water to capture the impossible and most adventures underwater moments of yours and comes along with 22 accessories so that you can use it with all comfort.
Conclusion:
We always select the things as per the budget and requirements and at the same time we want the best so above I tried to get some best action camera as per your various budget range and requirements. I have shared the list of the best action camera in India which you can buy for yourself. The listed range of action camera comes with various features which can be your best companion for all your adventures journey.
Best Action Camera

Question and Answers
Question: What is an action camera?
Answer: Action Camera can capture and record high-quality photos and videos of your most adventurous trips. Action Cameras are so compact and easily mount to anywhere like on the wrist, head, and many more places during the journey so that it can record and captures the most action and adventure moments of your life.
Question: How to mount an action camera on a motorcycle helmet?
Answer: First of all decide where you want to mount the camera on your helmet so that it can cover the maximum view while riding and then with the help of mounting accessories just place the camera in the required position and then you are good to go.
Question: How to use an action camera?
Answer: Most of the action camera comes with all accessories and the manual so that you can easily understand the procedure also you can take the reference from online.
Question: How to connect the action camera to PC?
Answer: You can connect your action camera to your PC with the help of a USB port or some other interface available with the camera.
Question: What is loop recording in an action camera?
Answer: In case of loop recording the camera overwrites the old files with the new files once the memory card full. It deletes the first 15 minutes clip and starts recording the next 15 minutes.
Question: What is WDR in an action camera?
Answer: Wide Dynamic Range provides for high dynamic range imaging by handling bright and dark conditions and improve the quality of the freeze-frame.