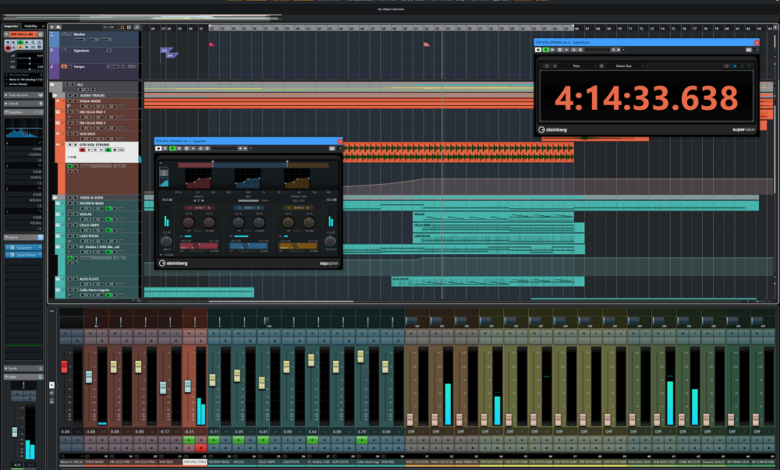 If you're viewing this, it's because you're hunting for the best audio editing software for Mac on the market.
However, before you blindly support the list and begin installing all of the audio editing tools listed here, you should consider your specific needs.
One must know what one they're searching for before they start reading this post.
For instance, whether you need audio editing software to edit podcasts or something more complicated to assist you in scoring a film.
You should also consider your income. Any program, no matter how wonderful it is, will always serve you better if you can buy it.
Lastly, consider your skill set and if you are willing to devote time to mastering audio editing software.
You'll be able to locate and rely on the program that will benefit you the most once you've answered all of these questions for yourself, rather than wasting time pursuing the fanciest audio editing software solution.
We attempted to organize this post with all of these considerations in mind. As a result, you'll be able to locate the best free audio editing software, the best audio editing software for editing podcasts, the best professional audio editing software, so on and so forth.
But, keep in mind that none of these categories are completely exclusive, as most audio software have a lot of functions in common.
Finally, the finest audio editing software for you will be determined by what you require and how familiar you are operating with it.
Having the above things noted, here is our recommendation for the best audio editing software for Mac:
7 Best Audio Editing Software For Mac
1. Adobe Audition: Best Overall Audio Editing Software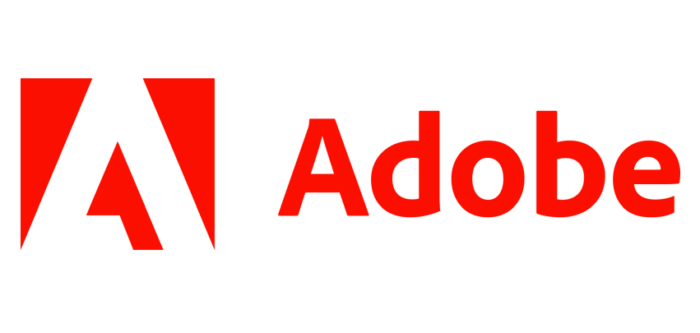 We'd like to start with the most apparent and finest overall audio editing software available on the market.
Adobe Audition can manage all of your demands, whether you'd like to capture and edit audio or compose a piece of background music for your next project.
Not only does the software have all of the functionality you'd expect from an audio editing application, but it also includes multi-track recording and editing, which is something we usually associate with digital audio studios.
Adobe Audition also has one of the greatest audio restoration and clean-up tools available. It has a plethora of plugins that give it even more functionality.
Plugins for anything may be found here, whether you wish to eliminate noise with accuracy or add audio effects. The waveform editing area in Adobe Audition is our favorite tool since it helps us to spot problems and make required modifications.
Adobe also includes AI-enhanced tools that can help you with audio editing. For example, there's an "Auto Ducking" option that employs Adobe's AI-based "Adobe Sensei" techniques to help reduce the background track level so that the vocals are more prominent.
Batch processing of audio files, automated speech alignment, iXML metadata support, synthetic speech, and more are among the app's other capabilities. The sleek and user-friendly UI will also attract you.
Because Adobe Audition is a professional audio editing program, users who have never used audio editing software before may find it challenging at first. However, Adobe offers free courses for both beginners and professionals that should help you get going.
---
2. Logic Pro X: Best DAW Software for Mac
Consumers adore Apple's software simply because it works so nicely with the company's hardware. Our preferred video editing software is Final Cut Pro X, which allows us to create a 4K video on my 2016 MacBook Pro. For Logic Pro X, the workflow is just the same.
Though being one of the greatest all-around audio editing programs on the market, it runs well even on older MacBook Pro models. With all that in mind, let's move on from Logic Pro X's clear edge over rival music editing software and focus on its features, beginning with its user interface.
The user interface of Logic Pro X is, in our view, the greatest of any of the applications on our list. It's simple to use, and you can go to any tool you desire with only a few taps.
While you may use Logic Pro X to just modify audio files for your podcast or other similar projects, you will be underutilizing the program and finding it difficult to justify its cost.
Logic Pro X is a professional DAW (Digital Audio Workstation) designed for musicians. It comes with a diverse instrument collection that spans virtually all musical types.
What strikes us as the most surprising aspect is how the synthetic instruments sound to their real-life counterparts. Only the keenest ears will be able to distinguish them.
The few instruments or music genres it doesn't cover may be readily added owing to its plugin support and vast plugin library, which is open to everyone.
The "Drummer Kit" plugin is our favorite music kit since it provides an AI-enabled drum track (electronic or acoustic) while you put your music on top.
Logic Pro X also includes over 7000 royalty-free audio loops that adapt to your project's pace and key automatically. Patches are also supported, allowing you to easily load complicated multichannel sounds.
There are features such as "Smart Tempo," which maintains tempo throughout all of your project's material automatically, Flex Time and Flex Pitch, Track Alternatives, automation, audio effects, music notation, as well as more.
The only issue with Logic Pro X is the price. We believe that the price is justified for individuals who will only use 10% of Logic Pro X's functionality.
It's a one-time charge, after which you own the program. There are no hidden fees or subscriptions. However, if you only want to use it for basic audio editing, it'll be overkill, especially when there are so many other decent choices.
---
Avid Pro Tools First is a free version of "Avid Pro Tools," a premium audio editing program that costs upwards of $500 and is used by filmmakers and TV professionals to compose and score music for films and television shows.
While "Avid Pro Tools First" is a stripped-down version of its premium equivalent, most users will find it sufficient.
It has a fast 64-bit audio recording and mixing engine, as well as a choice of session templates with preloaded instrumental tracks covering a wide range of genres, so you can get started making music right away.
It includes professional-level editing software. Avid Pro Tools First can manage anything from editing MIDI tracks to changing tempo to correcting pitch and timing.
Avid's Xpand! 2 virtual instruments and UVI Workstation 3 sample player are also included, allowing you access to royalty-free loops and rhythms.
This free edition also includes 23 utility plugins that enable you to modify your music as you like. Linking your mic or instrument to your computer and pressing the record button is all it takes to record your original music or sound.
When recording audio, you may utilize the loop recording option to record numerous takes and then select the best one. The program is also ideal for those who enjoy working with others.
Your content will be stored in the cloud if you purchase Avid's cloud-membership ($4.99/month). You may then share it with your coworkers so that you can collaborate.
Even the free version we're talking about now allows users to share up to three projects with other people.
So, as you've seen, you're receiving a ton of professional-grade features in an app designed for professionals that are used by industry leaders, and you're getting it without paying a dime.
---
4. Audacity: Best Audio Editing Software for Podcasters
Not everyone requires a fully functional digital audio workstation. In reality, 90% of users seeking audio editing software want a simplistic tool that can help them perform basic audio editing tasks like cutting, noise reduction, voice modulation, and background score insertion, among other things.
Whether you're a YouTuber, a podcaster, or just need to edit audio for home films, all of the aforementioned audio editing tools will be excessive.
You'll need software that not only allows you to accomplish these key editing tasks but is also simple to learn and use. Audacity is the finest tool on the market for that use case situation.
Audacity can be used as a DAW (particularly now that it supports MIDI import), but it's not designed for it in our opinion. Its user interface is basic and easy to use, making it ideal for those who don't want to spend days learning how to use audio editing software.
It's a free and open-source audio editing program with a clean and engaging user interface and all of the tools you'll require.
Audacity can handle anything from recording audio clips to editing them with features like cut, trim, copy, and paste, as well as employing audio effects, generators, and analyzers.
Audacity is also backed by a large number of plugin developers, so you can find plugins for practically everything.
Although being open-source and free, Audacity receives regular upgrades, ensuring that you are not stuck using outdated software. Audacity was just upgraded to support macOS Mojave's dark mode, and it looks fantastic.
There's also a new spectrogram view that lets you spot problems and make appropriate changes.
Our favorite part about Audacity is that you can learn the basics and get started editing in only a few hours by watching videos on YouTube.
Audacity is considerably more accessible than any other audio editing program simply because of this.
---
5. Ocenaudio: Best Audio Editing Software for Beginners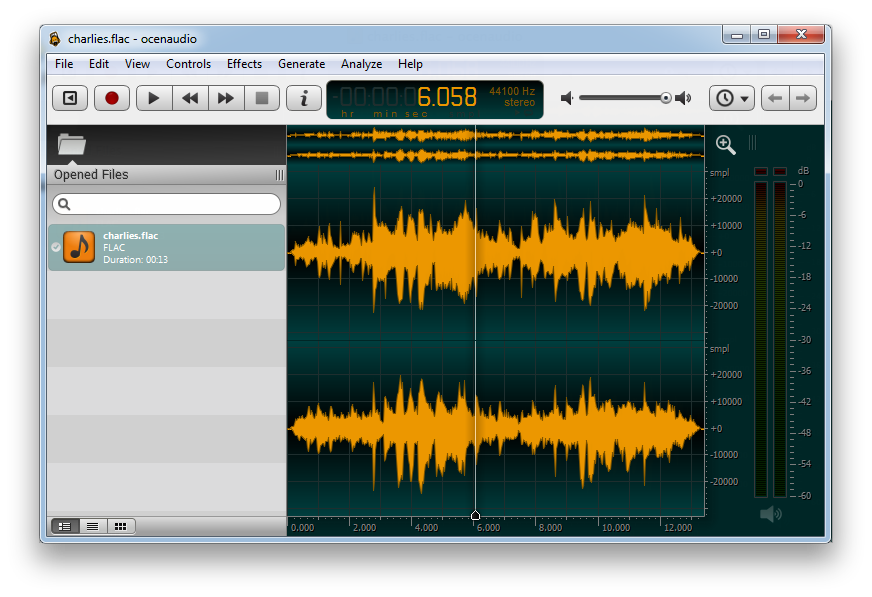 Ocenaudio, similar to Audacity, is a free and open-source audio editing program with a straightforward user interface.
When Audacity doesn't seem right to you for whatever reason, or if you want to try out some alternative audio editing software before deciding, ocenaudio should be next on your list.
Ocenaudio, like Audacity, has a simple editing interface that makes it simple for beginners to get started.
In reality, ocenaudio appears to be more advanced than Audacity in terms of appearance.
When it comes to features, ocenaudio includes all of the essential audio recording and editing tools. Simply plug in a microphone and click the record button to begin recording.
You may use all of the editing features, such as track selection, track cutting, and splitting, copy and paste, multi-track editing, and more when you're editing.
Ocenaudio, such as Audacity, allows you real-time viewing of applied effects. Users may utilize VST (Virtual Studio Technology) plugins to import changes that aren't included with the software, as well as apply native enhancements.
The spectrogram view is supported by ocenaudio; much like it is in Audacity. It may be used to examine the spectrum content of your audio stream in order to have a better knowledge of all the issues.
Ocenaudio is also capable of dealing with large files. The program worked flawlessly even after uploading data that were several GB in size.
It's not even that we were using it on a powerful computer like an iMac; we have a 2016 13-inch MacBook Pro.
While ocenaudio is an excellent audio editing program, it has one major flaw that will put off many people.
Because the program does not enable multi-track editing, many users, like us, will find it worthless. We have a lot of fun with this application, and we prefer it over Audacity in terms of UI and performance.
Unfortunately, because of the lack of multi-track editing capabilities, we are unable to utilize this program for our job.
Another disadvantage of this software is the lack of a vibrant online community.
There aren't many video lessons available online for this though. You won't be utilizing ocenaudio if your job requires multi-track editing.
This is the finest free audio editing software on the market right now for those who are just beginning with audio editing and don't require a multi-track editing application.
---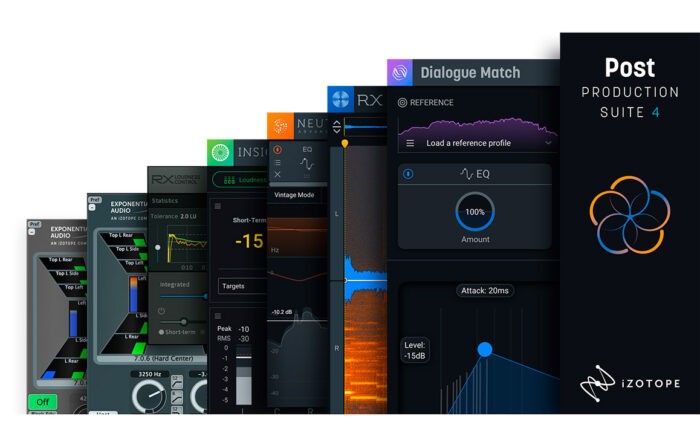 Without even a question, the greatest post-production tools for audio editors are iZotope RX Post Production Suite 4. No other business even comes close to iZotope when it comes to audio refinement.
When it comes to audio editing, the current version 4 upgrade has increased the power of its capabilities.
RX 7 Advanced, Dialogue Match, Neutron 3 Advanced, Stratus 3D, Symphony 3D, Insight 2, and RX Loudness Control are just a few of the tools included in the package.
Each tool has a unique function, and when used together, they may cover all of your audio post-production requirements.
Beginning with the RX 7 Advanced, it comes with a strong repair assistant that can detect and eliminate noise, clips, clicks, hums, and other noises with a single click.
Spoken Match learns and matches the acoustic nature of dialogue recordings automatically. Neutron 3 is a powerful mixing tool for professionals.
It has a feature called "Mix Assistance," which listens to all of the songs in your mix and provides you with a fair starting place.
Likewise, each of the suite's other tools has capabilities tailored to a certain aspect of audio post-production.
But iZotope isn't only recognized for its tool capability; it's also noted for how it shows the tools.
All of the tools are extremely visual, providing you a clear picture of the issues and what you can do to fix them. Take a look at the images above to understand how audio is represented in depth.
All of this capability, though, comes at a price, and if there's one thing iZotope is renowned for, it's its pro pricing. If your job entails audio editing and post-production, these technologies will save you so much time while providing a superior result that the cost will be justified. That being said, if you're just getting started with audio editing, the bill will be hard to accept.
---
7. Fission: Best Audio Editing Software for Fast and Lossless Audio Editing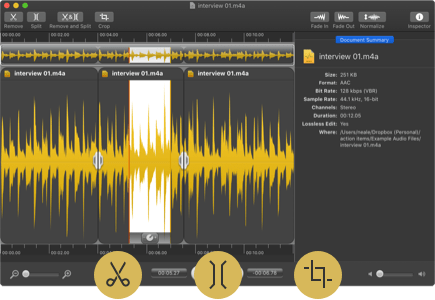 If all of the preceding audio editing software is too complicated for you, try Fission. It's a straightforward audio editor that focuses on offering a quick and lossless editing environment.
You get immediate access to all audio editing tools. You may join, chop, and trim audio, modify audio metadata, convert many audio files at once using the batch converter, and more.
We like that it can edit and convert files to MP3, AAC, Apple Lossless, FLAC, AIFF, or WAV.
You may also utilize Fission's smart split function for rapid editing, which intelligently splits audio files depending on silence.
Gain adjustment, cue sheet support, volume normalization, and other capabilities are also available. Rogue Ameba, the firm behind Fission, is well-known in the Mac world for producing excellent audio products, and Fission is no exception.
This is the program to acquire if you don't want to spend time learning audio editing and just want a quick and easy-to-use program.
Best Audio Editing Software: Final Thoughts
There is a slew of additional pro-level DAW software options available, but we didn't include them because we don't have any expertise with music creation. We attempted to maintain the list to represent the article's focus on audio editing tools. The only reason we included Logic Pro X is that we know some users would be seeking a DAW here, and it will be beneficial to them. If you're only working with spoken recordings and want a free editing tool, Audacity is the way to go.
However, we like the user interface and speed of ocenaudio, so it made the list as well. So suppose what we are trying to convey is that everyone has different needs and the software you pick will be based on those needs. We've picked seven applications that will satisfy the demands of 90% of the people who read this post. If you're looking for something special and don't know where to start, leave your needs in the comments area below and we'll correctly point you.