If you own a mobile phone, tablet, or a laptop and want the best sound experience possible you'll need a good portable Bluetooth speaker. Bluetooth speakers are ideal for music lovers on the go, not only are they portable but they will also provide better sound quality for just about any smartphone or Bluetooth-enabled device.
Not all Bluetooth speakers are created equally and finding the best Bluetooth speakers for your devices may be a little complicated especially if you don't know what features to look for.
Some wireless Bluetooth speakers are packed with additional features such as docking capabilities, charging capabilities, built-in alarms, etc., making them top of the range while some Bluetooth speakers only offer basic music playback functionality.
10 Best Bluetooth Speakers Under 10000 Rupees In India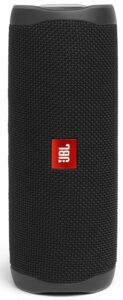 11 different colour variants
12 hours of playback time
Quality bass and rich crisp sound
IPX7 waterproof
The iteration to JBL's iconic flip series ha now reached to 5th generation. With the recent launch of JBL Flip 5, the company has just raised the standard of Bluetooth wireless speakers in the market. To start with the speaker comes in 11 different colour variants which is just too much.
The speaker is said to be IPX7 waterproof and is ready for a swim and to be submerged underwater. It also has the iconic JBL Bass radiator to create the quality of bass and rich crisp sound.
The company claims 12 hours of playback time which is pretty decent. There are buttons placed all over the body to control media and volume controls along with calls. Also for calling and assistant, there is a microphone built right into the speaker.
The JBL Flip 5 is the classic speaker and the flip series is the most selling speakers of all time. Flip 5 will again be breaking records as already it has received a few awards of the best Bluetooth speaker.
---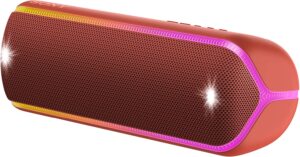 Features with IP67 rating
Rounded cylindrical shaped
NFC built-in for one-touch pairing
24 hours of battery life
Sony has a very good reputation for its quality of products. The SRS-XB32 is no exception and is said to be a very good speaker. It has all the perks of a good quality high-end wireless speakers which are around the market.
It features dust and waterproofing with an IP67 rating. The speaker is a rounded cylindrical shaped with one side speaker all the way. It comes in three attractive colours blue, red and black. The SRS-XB32 also features the signature Extra Bass by Sony which gives deeper bass and rich quality sound.
The party trick of the speaker is the party lights which glow around the speakers which give the party like sensation. For connectivity, it has NFC built-in for one-touch pairing with your phone and it has Bluetooth. Further, you can even connect up to 100 sony speakers in a chain for an extreme party like experience with light and sound.
Sony claims it has up to 24 hours of battery life which is just insane. The speaker also has a built-in power bank to charge other devices. For calling it has a built-in microphone which can also be used for google assistant. Overall the speaker is built very solidly to handle drops bumps and scrapes.
---
JBL Charge 3 is the JBL's mightiest Bluetooth wireless speaker which also offer a built-in power bank to charge your other devices. The Charge 3 features a massive 6000 mAh of battery which can last up to 20 hours of playback and can charge your mobile phones as well.
The speaker has a JBL Bass radiator to create deep and punchy bass while giving clear and crips sound as well. Charge 3 is rated IPX7 waterproof so you can easily take it for a swim without any doubt.
The speaker also has a voice assistant integration to access Siri or Google Assistant with a simple press of a button. There is a JBL Connect app through which you can build a JBL ecosystem by connecting multiple JBL speakers altogether.
The speaker has a built-in microphone for calls and has buttons placed on the body to control calls, media and volume along with an assistant. It comes in 6 different colours including a Malta colour which is very much iconic on its own.
---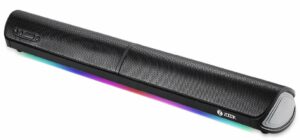 50w of sound output
Rectangular boxy design
8 hours playtime
Aux and Bluetooth 4.1 connectivity
This Torpedo speaker by Zoook creates an insane 50w of sound output which is just so much loud and clear. It is pretty hard to beat this speaker's sound and bass quality from any other speaker of this segment.
The design is also very unique having a flat rectangular boxy design with rugged durable materials used for longevity. The speaker is said to be waterproof and dustproof as well.
It has a very long battery life which can last the whole party without sweating a bit with its 8 hours playtime. For connectivity, it has Aux and Bluetooth 4.1 options.
Apart from this the speaker also has calling options with its built-in microphone. The speaker is designed in France and is very much durable and rugged.
---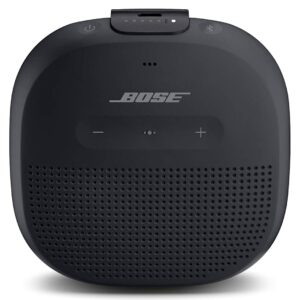 Luxury and premium feel
IPX7 waterproof design
6 hours of playtime
Stereo mode or party mode
Bose is one of the most premium brands when it comes to speaker and sound accessories. They give a luxury and a very much premium feel along with a very high-quality sound experience. The Bose sound link Micro is the starting variant of Bose's wireless portable Bluetooth speaker range.
The speaker comes in three different colours Red, Blue and black.  this is one of the best Wireless Bluetooth Speakers. The Soundlink Micro is durable and has a IPX7 waterproof design which helps in keeping the speaker running even if you are near pool or at the beach. The speaker gives easy pairing option with voice prompts which makes pairing hassle-free
The Bose Soundlink Micro also allows to pair with any other compatible bose wireless Bluetooth speaker to make it stereo mode or party mode. On a single full charge of the speaker, it runs for up to 6 hours of playtime.
The speaker is very much portable and has a very premium finish and touch to the materials used to make the speaker. It also has lights to show battery level right above the media playback control buttons. A speaker by Bose is always a good buy and this one is no exception. It is one of the best Bluetooth speakers under 10000.
---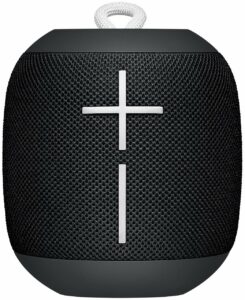 13 hours of music playback
360 degree sound
 IP67 rating technology
Dual speaker system
Ultimate ears Wonderboom is a portable fat Bluetooth speaker with a high-quality sound. It's very much portable and produces a very rich and high quality of sound.
The company claims a long 10 hour of battery backup and is said to be waterproof as well. Strangely they also say it is shockproof, waterproof and it floats in the pool.
The Ultimate Ears Wonderboom has dual speaker system with a 360 surround sound system. The speaker is charged within 2.5 hours and it also features media controls on the speaker along with volume level controls.
It's a true party starter pack considering it's just under 10000/- and gives so much more. To sum it up the speaker has long battery, water and dustproof, loud and clear sound and is portable as well.
---
Multi premium color choice
 360 degree sound
3.5mm audio cable
Supports Wifi calling
Amazon's Echo series of speakers are way above the other speakers in this segment of Bluetooth speakers under 10000. The Echo Dot is the baseline of the smart speakers by Amazon.
The recently launched 3rd generation looks just great and has amazing sound quality. What's more, is the built-in Alexa in the speakers. The smart assistant is so amazing that you don't even need a phone to play songs on the speaker. You just need to speak to Alexa and say " Play a Song" and it will play it.
The speaker comes in 4 colours black, white, grey and purple. It isn't that portable since it needs to be plugged into a socket to work. The speaker has endless features and responds to every query you ask for. Besides that, you can even control our smart lights and make your home a smart home.
All you need to have is a WIFI connection and an Amazon account that's it. The speaker also has Bluetooth which can be used to connect externally to any other speaker and enhance the sound even more.
Echo dot also supports Wifi calling through which you can make calls between echo devices from your contacts. All in all the Amazon powered echo dot is a very good device not only for music but for other smart things as well its a complete package as a speaker.
---
IP67 dust and water-resistant
16 hours of music playback
Built-in microphone
5 different candy colours
Sony's SRS-XB12 Bluetooth wireless speaker comes with Extra bass boost feature which is a trademark feature by Sony and the company uses it only in their high-end speakers and earphones.
A passive radiator works with the mono speaker to enhance low-end tones, giving bass a boost While the XB-12 gives good quality sound along with extra bass the speaker is also IP67 dust and water-resistant so it is safe from water spills and splashes and can be taken near the pool without a second thought.
The speaker also comes in 5 different candy colours like orange white black blue etc. The company claims that the speaker can last for up to 16 hours of music playback on a single full charge which is very good considering its small portable size.
The Sony SRS-XB12 also posses a built-in microphone for clear and handsfree calling or if you want to use Google Assistant or Siri. There is a detachable strap also for the ease of carrying the speaker anywhere or simply hang it.
All in all its a good quality speaker with a compact design and can be considered while buying a good Bluetooth wireless speaker.
---
Built-in microphone
Dual Bass radiators
10 hours of battery backup
cylindrical in design
JBL' Flip line is one of the best Bluetooth wireless speakers as it gives the most value for its money. The all-new launched JBL Flip 3 is one of the best speakers currently in the market which is decently priced and gives a good quality sound along with an extensive battery backup.
The bass is also deep and clear with even noticeable low-ends. The speaker also comes with a built-in microphone to use your google assistant or simply to make calls handsfree.
The JBL Flip 3 has Dual Bass radiators to give out the most of it. The speaker is said to be IPX7 water-resistant and can be easily taken near the pool without any doubt it will work like charm even near the water or in the rainfalls.
JBL claims 10 hours of battery backup on a single charge which is very good for its loud and clear sound quality and the deep bass it has. The speaker is cylindrical in design and has a durable fabric material covering the outer part of the speaker which makes it a little bit drop-friendly.
The speaker also comes with a cover in the box which can be used to keep it safe while it is not being used. The JBL Flip 3 is good for those who are clung to the albums and have a long list of playlists and also for those who like to listen to music while working or doing anything.
---
DUAL EQ Deep Bass speakers
20w of sound output
10 hours of playback time
IPX7 water-resistant
Infinity the sub-brand of Harmon and a sister company to JBL is a very good brand for speakers. The brand has a wide variety of speakers to choose from. The Infinity Fuze 700 DUAL EQ Deep Bass speakers are a great option to go for if you are looking for a portable Bluetooth wireless speaker under 10000.
The speaker has 20w of sound output and has up to 10 hours of playback time. What's interesting is that the speaker also has a built-in power bank of 2600 mAh which can be used to charge other devices by the battery pack of the speaker. It is very good features and all the speakers with big batteries should have it.
The speaker is IPX7 water-resistant which means taking to a  pool party won't create any issues. Fuze 700 also features dual equalizer modes for deep bass output. It has a rugged durable fabric material for longevity and durability.
With Bluetooth 5.0 you can connect seamlessly and you can also connect 2 Fuze 700 speakers and enjoy the sound output double the power that is 40w. The speaker also comes with a year of the manufacturer's warranty.
Conclusion:-
This is all about the best bluetooth speaker under 10000 rupees in India, In this list we have mention top-quality bluetooth speaker that you can easily able to buy from the given links.
Now you have a list of the most budget-friendly speakers, and not all these speakers are so common because they are brands. And when you choose to buy a brand product, you have to spend a few more bucks as it is truly worth spending. You will not regret spending more money when it is about quality.