PC Monitor
5 Best Monitor Under 5000 Rupees In India For Gaming & Office Work
As an avid gamer, the right gear can immensely elevate your gaming experience. One such vital component that often gets overlooked is the gaming monitor. It might seem trivial, but having the right gaming monitor can make a difference in performance, immersion, and overall satisfaction. This article aims to explore the finest gaming monitors available under 5000, factoring in its numerous variables like refresh rate, response time, resolution, and more, to help you make an informed choice for your next upgrade.
5 Best Monitors Under 5000 Rupees In India For Gaming & Office Work
Gaming monitors can significantly boost your gaming experience. Unlike standard monitors, they have features tailored to improve gaming performance, presenting you with an immersive experience. The perfect gaming monitor takes you to the heat of the battlefield or the heart of an unfolding mystery with precise color accuracy, low latency, and high refresh rates.
Understanding Gaming Monitors
To gain a clearer insight into what makes the best gaming monitors, here are the attributes worth considering:
Refresh Rate: The refresh rate, measured in Hertz (Hz), signifies how often your game displays updates per second. A high refresh rate monitor is ideal for fast-paced gaming, thus meaning less motion blur and screen tearing.
Response Time: The response time measures the speed at which each pixel can change colors, directly impacting the clarity of moving images in games.
Resolution: A factor that affects the quality of games, particularly the sharpness of your visuals. Monitors with high resolution ensure better details.
Panel Type: Kick-started by CRT and TFT, we now have IPS monitors, VA monitors, and TN monitors. The IPS panel offers better viewing angles and color reproduction, whereas VA and TN excel in contrast ratio and response time, respectively.
Size: Monitor size is a personal choice, but remember that too big could cause discomfort, while too small could go against optimal gaming visuals.
Price: As we focus on the best gaming monitors under 500.0, pricing is critical. It's essential to find a good mix of cost and quality.
There is a vast landscape of gaming monitors, each with unique features. They range from HDR monitors with a broader color palette to curved monitors for an immersive field of vision. We also see innovative ultrawide monitors for a panoramic gaming experience and dual monitor setup for multi-tasking. All these alternatives position an exciting palette of choice for gamers.
Several brands have started introducing gaming monitors with AI-powered features, including brightness adjustment per the ambient lighting conditions, enhancing user comfort and visuals.
Among the gaming monitors under 5000, a few allow you to enjoy seamless visuals with technologies like G-Sync and FreeSync, removing the risk of screen tearing. For gamers who prefer super-sharp images and deep black levels, OLED monitors, MicroLED monitors, and Amoled gaming monitors are worthy of consideration.
Meanwhile, companies have introduced the Mini LED gaming monitor and more revolutionary options with a mix of AI-powered features catering to gamers seeking optimization for their specific preferences.
For users eyeing durability, eyecare monitors offer excellent longevity, reducing eye strain from extended sessions. The eyecare features adjustable ergonomics and USB-C connectivity to ensure comfort. Other additional features can include built-in speakers, headphone jacks, VESA mount compatibility, and KVM switches for convenience.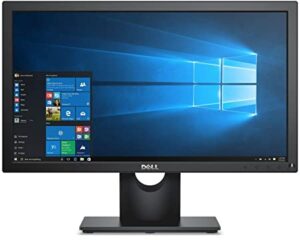 19.5 inches display
5ms response time
Antiglare display coating
Eco-conscious design
This is one of the best monitors for photo editors, gamers, and online work under 5000 rupees In India. This Dell monitor comes with various functionalities along with its 19.5-inch beauty display.
The look and the overall feel of this monitor are fantastic, and also, its build quality never disappoints you. This monitor maintains perfect color combinations, coverage, and perfect color calibration to suit users' needs.
The colors are very accurate and have great clarity. This dell monitor offers a clearer 1600×900 resolution display than that of a normal high definition monitor. Overall the package offers a lot of features, and the display quality is also quite good.
---

20 inches display
2ms response time
50Hz refresh time
Flicker-free technology
This South Korean electronics giant has brought this 20-inch monitor to delight every work effectively. The company promises to provide a great visual treat for the customers willing to own this monitor.
The monitor offers 1366×768 HD ready display resolution to coverage and reproduces that specific color scheme of prime importance for professionals.
The monitor delivers you a 2ms response time with a 50Hz refresh time. Along with this for the connectivity, it has 1 VGA port and 1 HDMI port.
---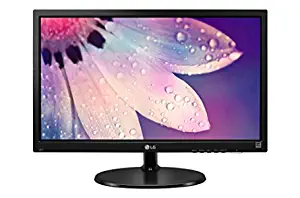 19 inches HD display
5ms response time
Flicker-free technology
Anti-glare coating
This LG-ready office monitor is another best choice under 5000 rupees in India. This LG 19M38H monitor has 19.5 inches had a display with 1366×768 resolution. It delivers you a very customizable interface.
The monitor comes with many useful features that make it worthy for every user, such as it is perfect for home/office/gaming/online work. It is perfect to use CCTV surveillance monitoring, etc.
It also has VGA connectivity that allows you to connect it in VGA format. Its VESA standard feature is mounting the features like color weakness mode, color revision algorithm, and many more.
With its onscreen control, you can modify the screen configuration by a few present physical buttons that are prebuilt on the monitor.
---

19.5 inches HD display
5ms response time
Extra narrow bezel
Kensington security
Sometimes it's important to have a professional and high-quality monitor for your gaming needs. Towards this end, you should consider using the AOC E2070SWHN gaming monitor with a 16-inch resolution under 5000 rs in India, which is more than enough to play games or enjoy other sources of entertainment such as movies, documentaries, concerts, or TV-shows.
As one of the top-rated gaming monitors, this model has a slim design and a beautiful outlook. The model is VGA and HDMI connectivity system for continuous power flow. It also features a bright panel that permits you to select with ease the brightness levels, thus enhancing the good visual experience during games.
The AOC E2070SWHN gaming monitor featured HD 1600×900 pixel resolutions that perfectly managed high definition image quality in vivid colors.
This AOC E2070SWHN gaming monitor comes with a Kensington security theft prevention that provides you complete security for your monitor via it's compatible locking cable kit.
---

19.5 inches HD display
Blue light technology
5ms response time
EcoFacts label
BenQ is feature-packed and uses flicker-free and low blue light technology to provide a comfortable viewing experience for photo editing experts, gamers, and online workers.
The monitor has an adjustable stand making it comfortable for professionals working for long hours. The control buttons have a nice design pattern and are easy to use.
It is compatible with multiple formats like DVI, also VGA connectivity. Enhances the overall viewing experience by leaps and bounds.
This BenQ VL2040AZ 19. inch HD display backlit monitor comes with power-packed eye protection functionalities also. It's another feature such as connectivity, color combinations, ms response time, TN panel, cord length, and so on never disappoints you and adds value for this monitor.
Conclusion:-
Selecting the right gaming monitor under 5000 requires carefully assessing many factors. The ultimate goal should be to enhance your gaming experience, provide comfort for long gaming sessions, and offer optimal performance without compromising durability or versatility. With clarity on requirements, one can find a credible range of offerings, from HDR monitors to groundbreaking.