Home Theater
10 Best Home Theater Under 3000 Rupees In India 2023
Many of us have encountered this situation when we are watching our favorite movies or TV shows or just some regular content on our TV and realize that the sound quality of the TV is not very crisp and clear.
We have to turn on the volume to the max to enjoy the surround sound experience. A lot of us had those big bulky home theatre systems in our homes in the past which used to take a lot of space and used to be expensive back in the days.
But since a lot of things have changed, the new age home theatre is now much smaller and takes less space in your living room. They are comparatively coming at much lower prices and do the same job as those bulky home theatre systems.
So if you are considering buying a new home theatre to improve your TV watching experience, then this article is especially for you. Below is the list of top 10 budget home theatres available at below 3000 Rs.
10 Best Home Theater Under 3000 Rupees In India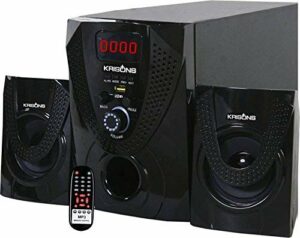 1 Subwoofer

2 Satellite Speakers

1 Remote Control

1 Aux Cable
Krisons is an Indian brand that is manufacturing electronics items since the 1980s, and we can say they have been a pioneer in the Indian market.
With Krisons Nexon 2.1 Bluetooth Home Theater, you can feel the goosebumps in your body with its 2.1 Surround speaker. There are two small speakers which are also called satellite speakers and one subwoofer.
It has an in-built USB socket to let you enjoy your favourite songs from a USB stick too. It also comes with an AUX socket to let you listen to audio from your devices be it laptops, smartphones, LED TV, etc.
It comes with a 2.0 Bluetooth connectivity with a good range to connect your Bluetooth compatible devices. There are four buttons to change the modes of the track with volume and bass knobs at the centre of the speaker.
It also comes with remote to control the tracks from it, so you don't have to move towards the speaker every time you need to change a track or to change the volume.
---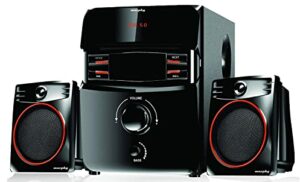 15 watts per channel
30 watts for the sub-woofer
SD card slot and Bluetooth
 6 month's Standard Warranty
When you want to watch a movie or a TV series on your Smart TV or maybe your regular TV you want that you get clear and sharp audio from it so that you can enjoy the full potential of that particular experience.
So it becomes kind of necessary to have a good home theatre. The home theatre comes with good speakers which let you listen to music at high volumes. It has multiple wired connections and a Bluetooth connectivity option too.
The subwoofer in this speaker has a compact design, yet it gives quite a good bass and treble. The added advantage of being wireless will mean that your home will look nice without all those cluttered wire. The soundbar in this speaker will easily be more than what you get from your TV speakers.
---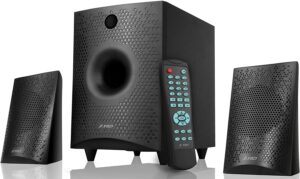 2.5 inches full range driver
4 inches bass driver for subwoofer
Frequency Response: 35-230 hz
Inbuilt FM ratio
The F&D Bluetooth speaker comes with a full range driver for both the small speaker and subwoofer. It works on an AC adaptor with a power output of 15W.
The Bluetooth range in this speaker is 15 meters; it has Bluetooth 4.0 version audio streaming, signal to noise ratio is ≥ 60dB, and Separation: ≥ 40dB. You can plug and play music with a USB card reader from the USB slot.
FM storage in this is up to 100 stations and also full-function remote control. It comes with a simple yet classy design. You get control buttons on top for volume, play/pause music. The remote control works even at a distance of over 10 meters.
---

5.1 has various input

AUX-in and SD card reader

Big digital display

Full function remote control
Another budget home theatre from Krisons comes with a 5.1 speaker system. The surround sound speakers in this can perform well in almost any occasion. With five small speakers and one subwoofer, it will give you the experience of a theatre at your own house.
The speaker has an In-Built USB slot for listening to music from the USB itself. It also has an AUX-IN socket to make it compatible with all devices through a 3.5mm jack.
The system comes with an AUX cable so you can connect your phones, tablet, pc, laptop, and other devices to it. The speakers come with a 2.0 Bluetooth connectivity to give you a wide connectivity range.
You also get some features such as the four buttons to change the track and mode of this system along with three knobs in the front to adjust the volume, bass, and other frequencies. It provides a balanced sound while listening to music. The compact size lets it take less space in your house.
---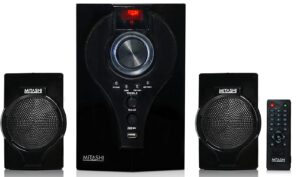 3500 watts PMPO

AUX connectivity

Digital FM radio

USB, SD, MMC card reader
The Mitashi HT home theatre comes with a 2.1 Ch speaker for the impressive audio quality which lets you feel even the subtle sounds coming from it.
It comes with Bass and Treble control for different genres of music which can enhance the listening experience. It comes with a 3500W PMPO to give you clear audio quality. And can be connected to any other audio system, such as an MP3 player, Smartphone, desktop, etc. to this portable speaker.
The in-Built digital FM Radio lets you listen to all the radio stations for news and music. There is also an option to connect your USB with a USB card reader, and the process is really simple to connect and play your music from it.
You can connect your LED TV with the provided AUX cable and enjoy the sound of your TV from your external speaker. It also comes with a remote to control your music from a distance. It has a look that will enhance the beauty of your home.
---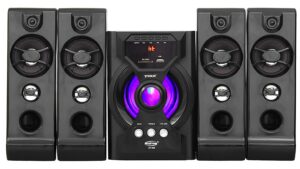 RGB Light on the Front Panel

5 Inch sub-woofer

4 Powerful Satellite

80W 4.1 multimedia speakers
The Eccellente Bluetooth home theatre has a 4.1 channel which provides an awesome listening experience. It comes with a LED Light Display which is not present in other speakers in this range.
It supports all Bluetooth devices so you can enjoy listening to music from your Smartphones, Laptops, Tablets, LED Smart TV, and other devices present at your home.
It comes with 4 Satellite speakers and one woofer. The Eccellente Speaker also has an AUX input option to connect your devices through the cable. It has FM so you can enjoy listening to the news or other channels smoothly.
The speaker has Pendrive and a USB slot to access music from your pen drive and enjoy your music from it. It also has decent RGB light in the front panel, and it comes with a remote for wireless connectivity.
---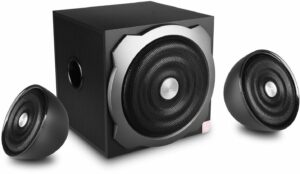 4-inch full-range driver

6.5 basesubwoofer speaker

5000W of sound

Output power of 52W
The F&D speakers have a wooden case of the speaker that doesn't allow any distortions even on the maximum wattage that the speakers are capable of producing.
There are 4-inch full-range driver satellites and 6.5 base drivers for the subwoofer speaker. You can connect the speaker to your MP3, CD, DVD, PC, or TV due to its multimedia support.
It comes with a No-Frills look which gives it a glossy finish of the panel and metal grill for the satellite, and ideal power consumption so you won't have issues with voltage due to built-in AVR for wide operating voltage range.
With 5000W of sound, there could be a chance of distortion, but the wooden cabinet handles it very well. You can expect a good bass experience from your music.
The subwoofer frequency response on this speaker is from 20Hz-120Hz, and the Satellite frequency response is from 120Hz-20KHz with an Output power of 52W. It also has a subwoofer of 20W. There is an option of adjusting volume and bass with a knob.
---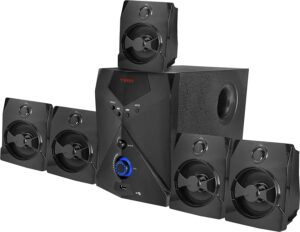 Bluetooth Speaker

Home Audio Speakers

Multimedia Speakers

Home Theater System
The Tecnia Atom 504 home theatre is a made in India product and can work with Laptop, phone, or TV through an AUX cable. It also comes with a remote to wirelessly access the music.
The sound quality from the device is quite decent, and it can be a good choice if you are considering a budget home theatre.
You can also use your Pendrive in this home theatre and can access your music from it to enjoy your music at family gatherings and parties. It has a 50W speaker output and can produce a rich sound in a room.
---
Built in MP3 player
3.5mm stereo for computers
Wooden Subwoofer cabinet
45Hz ~ 20kHz  Frequency Response
The Creative E2400 Home theatre system comes with two speakers and one subwoofer. It comes with a memory card slot so you can insert your liked songs in a memory card and enjoy it.
The power output in this speaker is 25W, and the frequency response is from 45Hz-20KHz. The Impedance is 4 ohms in the case of the subwoofer and 6 ohms in the case of the satellite.
Since it is a wired home theatre so can be used with an RCR cable, memory card, and a USB Port. There is a remote control to access your music wirelessly. The power input in this home theatre ranges from 220-230V or 50Hz.
---
5.1 Speaker System

Bluetooth Connectivity

Stylish design

Remote Control
The I KALL portable home audio speaker has four speakers and one subwoofer. It supports AUX cable and remote control.
It is very portable so you can take it wherever you want and can enjoy your music without any hassle of moving very bulky speakers.
The frequency response of the speakers ranges from 40Hz-200Hz for the main unit and 200Hz-20KHz for the satellite.
The Impedance of the main unit is 4 OHMS and for the satellite its 8 OHMS. It comes with a classy design and is available in black colour.
Final Verdict
So this was our compiled list of the budget home theatres under 3000 RS, or in other words, you can say budget home theatres. If we were to pick we would have gone with the Krisons Nexson Bluetooth home theatre for its compatibility for various devices and the multiple features it offers for its price. Otherwise, all of the home theatres or audio systems mentioned above are good and will perform very well in everyday use.