If you want to invest in a running shoe that is within the budget of rupees 3000 then keep on reading to find out the best running shoes available online.
This list includes shoes for both men and women and all lie in the budget of rupees 3000. The price ranges from 3000 rs.
Shoes are chosen based on customer ratings and this list states all the negative as well as positive parts about the shoes. Find the best running shoes under 3000 rupees that are available online:
11 Best Shoes  For Men And Women Under 3000 Rupees In India
The first shoe on this list is from the best-known shoe brand- Nike. Nike men's run all shoe is a stylish looking shoe designed with high-quality materials and is manufactured with keeping all the necessary details in understanding.
It is lightweight, durable, and easy to maintain. This shoe guarantees stability due to the reinforcement system added to it.
It maximizes comfort and supports the feet in the best way possible thanks to the pylon insoles that also double as a shock-absorbing feature.
It gains its run all day long name cause of the high-quality mesh upper fitted in the shoe that keeps ventilation intact and dissolves undesirable moisture and sweat.
This shoe is suitable both for summer and winter cause of the rubber insoles fitted in the shoe. Rubber insoles also provide a firm grip and make this shoe suitable for running on rough roads. It's stylish and guarantees performance, it is the best choice for any Nike's shoe fan.
---
The next running shoe on the list is Asics men's nitro fuse-2. This shoe is a great combination of performance and style. It has so many attractive features and is a product that it is worth every rupee spent on it.
Its design includes various modern features that provide comfort to the feet and makes it a supportive shoe. This shoe includes flex grooves that are fitted on the sole that makes it suitable to run on rough surfaces and provides flexibility while running so that the shoe can bend according to the foot shape during Swift movements.
Its interior is quite comfortable due to all the features like fuzegel technology and ortholite sock liner. The ortholite sock liner is placed inside to shoe that provides padding and makes the shoe more comfortable. The fuzz gel technology is quite new in the market and it makes the shoe highly comfortable as well as supportive.
The midsole in the shoe has fuzegel technology that absorbs the shock while running and lowers the impact of landing on the heel.
These shoes are durable and very easy to maintain cause they are equipped with abrasion rubber made from the  Asics high-quality material.
The best part about this shoe is that it guarantees all these features and still is lightweight and properly ventilated thanks to the Jacquard and mesh upper it is made with.
It also has two color options including dark blue and grey color.
It is hard to get a shoe that has all these new technology and features at an affordable price so it's the best choice for anyone who wants the shoe to be comfortable and supportive.
---
The third Shoe on this list is again from the brand Asics.  This shoe has everything that a running shoe requires right from the modish design to high-level performance, it's a shoe that serves all the purposes.
Just like the previous one this shoe also has a comfortable interior. The midsoles in this shoe have Ampliform technology that makes it very comfortable and supportive. To add to this comfort a sock liner is provided that can be removed according to your convenience.
This shoe provides shock absorption as well as landing support to your foot to prevent it from any kind of ruffle and this is ensured by the Durasponge and high-abrasion rubber on its outsole.
Its upper is made of high-quality mesh that provides ventilation to the shoe and prevents sweating and bad odor.The mesh also makes sure that the shoe remains lightweight and durable.
This shoe is an affordable, durable, modish, and a great choice for anybody who has an interest in fast running sessions.
---
Shoe Width: Regular
Outer Material: Textile
Closure Type: Lace-Up
Heel type: flats
Here's a shoe for all the racers out there! The new balance men's  Cush+ district shoe is a stylish running shoe that has all the advantages of new balance's innovative technology.
It's a very comfortable shoe that is fitted with injection-molded EVA form that not only provides shock absorption but also great flexibility and durability. These midsoles are light in weight but comfortable at the same time.
The mesh made upper is something that provides breathability to the shoe and maintains its lightweight. The mesh also ensures that the interior of the shoe is seamless and comfortable.
The outsoles are also made of EVA rubber that ensures that the shoe will last you many years and prevent it from deterioration. It is suitable for high-speed workouts and active running.
---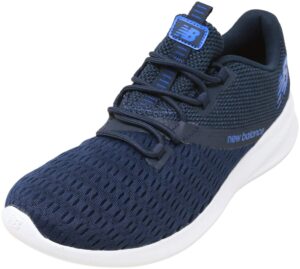 Closure: Lace Up
Shoe Width: Medium
Material Type: Textile
Lifestyle: Sports
The fifth and last shoe for men on this list is the new balance men's M_Wdrnv1. This lightweight shoe is extremely stylish and modish. Its upper is made of mesh material that keeps the shoe lightweight and provides ventilation inside the shoe.
The shoe fits seamlessly and the interior is spacious and supportive. The mesh also ensures that bad odor stays away and the feet remain moisture-free. It has an EVA midsole that makes this shoe flexible and provides added comfort.
It has a high customer rating but some customers weren't satisfied with the quality so our recommendation is that you go for the shoes that are ranked higher in this list to get the best out of your running experience.
---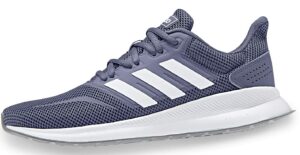 Shoe Width: Regular
Outer Material: Synthetic
Closure Type: Lace-Up
Toe Style: Round Toe
The first shoe you on this list is from Adidas. The Adidas women's run Falcon shoe is the best choice in the price range under 3000. It's a very comfortable yet stylish shoe.
The rubber outsoles make the shoe durable and perfect for rough surfaces. The rubber outsoles also provide a firm grip.
The upper of the shoe is made with a blend of mesh and synthetic material that makes it lightweight and comfortable. Due to this upper, the shoe is breathable and nicely ventilated so that you can run all day long without worrying about bad odor and sweat.
The midsoles fitted in the shoe are made of EVA foam and provide flexibility and bendability to the shoe while ensuring that it remains lightweight.
The shoe has a sleek stylish design and guarantees high-quality performance it's the best choice if you enjoy running and other active sports.
---
Closure: Lace-Up
Shoe Width: Medium
Material Type: Mesh
Lifestyle: Sports
The second best choice in running shoes for women will be Nike women's revolution 4. It has many features guaranteeing comfort and support to the feet.
It's a flexible and durable shoe due to the hard rubber outsoles installed in it that also provide a firm grip on rough surfaces and roads.
It is equipped with molded pods on the outsole that provide your feet with support and serve as a shock absorption feature.
It's quite comfortable thanks to the soft midsole presented inside the shoe that provides adequate support and keeps the shoe tight but still breathable. The mesh also helps in making the shoe lightweight and ventilated.
For a cheaper and affordable option, this shoe has everything that a high-end brand will offer. It's supportive comfortable lightweight durable and also affordable. It's a great choice for a running shoe that has all the necessary features.
---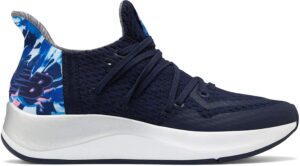 Shoe Width: Regular
Outer Material: Synthetic
Closure Type: Lace-Up
Toe Style: Round Toe
If your someone who enjoys running daily then this is the ideal running shoe for you. The news balance women's cypher run V2 shoe combines good looks and good performance in the same shoe.
The outsoles of this shoe are made with new balance's N-durance technology that makes this shoe highly durable and prevents it from wear and tear.
It's soles also have extra padded cushioning that makes the shoe shock resistance and provide support to the foot. you can easily wear the shoe with any casual outfits due to its modern and futuristic design.
---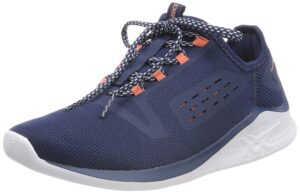 Closure: Lace Up
Shoe Width: Medium
Material Type: Synthetic
Lifestyle: Sports
Next, let's talk about Asics Fuzetora running shoes for women. It's a stylish shoe with many features from the well-known brand Asics. Being affordable it still has all the qualities that a running shoe needs.
Mono-sock technology makes the shoe fit perfectly and comfortably. This technology also ensures that the foot is supported.
It has flex grooves installed on his outsole that provides a firm grip over slippery surfaces and helps the shoe to be more flexible and blend according to the foot.
It comes with an Ortholite Sockliner that helps to keep excess moisture at bay and absorbs any extra sweat efficiently.
It is suitable for racing and running thanks to the lightweight material used in making the shoe. It has a practical design, it is durable, and is an efficient shoe.
---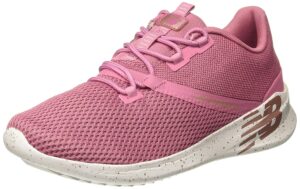 Outer Material: Textile
Closure Type: Lace-Up
Heel type: flats
Toe Style: Round Toe
The new balance women's cush+ district shoe is the same as the new balance men's Cush+ district shoe and offers the same advantages as the men's one. It is a great choice for fast runners and Swift workouts.
It's made with innovative features and is really a comfortable shoe including padded midsole and EVA foam.
Its upper is made out of high-quality mesh material that provides ventilation and breathability to the shoe and this also helps in dissolving the issue of sweat and bad odour.
This shoe fits perfectly and supports the foot in the right places. The rubber outsole of the shoe makes it flexible and this helps the shoe to bend according to the foot needs.
The midsoles are equipped with injection-molded EVA foam and new balance's Cush+ technology that provides incredible shock absorption and comfort. The rubber outsoles also make sure that the shoe is easy to maintain and to clean.
---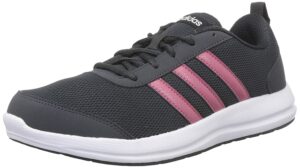 Material Type: Mesh
Lifestyle: Sports
Closure Type: Lace-Up
Heel Type: Flats
Last but not least on this list is Adidas women's hyperon running shoe. This shoe is a cheap and affordable option from reputable brand Adidas.
The Adidas women's hyperon shoe is a pretty comfortable shoe serving the benefits that any running shoe should. The shoe has an EVA midsole that provides shoe comfort, support, flexibility, and stability.
These midsoles also ensure that the shoe remains comfortable throughout the run or the walk while absorbing the shock on the foot during landing.
Its made of breathable material that contains a blend of mesh and synthetic this also helps in keeping the shoe dry and your feet sweat-free. It's a great option from Adidas and an excellent choice in women's running shoes.
How To Choose Best Running Shoes: Complete Guide
1. What are running shoes for flat feet?
The first thing that you need to understand (before we dive into the more specific tips and tricks) is precisely how most shoe companies approach building shoes for those with flat feet.
Almost all of the major shoe companies try to build shoes for those dealing with flat feet as though they have an unnatural stride. And while it's undoubtedly true that some people with "pancake feet" have incredible strides (dealing with under pronation or overpronation), the reality is that most do not. Even if your feet are as flat as a table, you may very well still have a neutral stride, also known as neutral pronation.
So while some shoe companies will put in extra arch support (or under arch support), all this does is further compounded an issue that you're not even dealing with in the first place. It is controlled; it's directly to most "flat feet shoes" being ridiculously uncomfortable, also though they have been specifically designed for the exact opposite results.
What you really might want to look into (as it was tremendously helpful for me) are shoes that have neutral soles or neutral arch support – and then adding in any of the extra "creature comforts" and that you have already fallen in love with (comfort gel insoles and the like) later on.
2. Why do we need to get the most suitable?
The biggest reason that we need to purchase the most suitable designs is to avoid all of the pain, blisters, and friction that comes from running in shoes that haven't been designed for our feet.
While the general population (affectionately known as "normies") can feel comfortable sliding into almost any pair of running shoes, we flat-footed people have to deal with some severe comfort issues unless the shoes are designed specifically for us.
This applies across the board when it comes to shoes but is most prevalent when we're talking about the best running shoes for flat feet. When you are going to put your feet (and the rest of your body) through a tremendous beating, you should never have to worry about the extra damage being done just because your shoes are not as comfortable as they should be.
No, explicitly purchasing the most suitable designs will make sure that we never have to worry about excess rubbing, friction, chafing, blisters, or other significant issues that can crop up the kind of the significant problems that can sideline our Running for weeks or even months.
3. What specific features should I be looking for?
As mentioned above, unless you have already been diagnosed explicitly with different types of arches on your feet, you're probably going to want to look into neutral spans across the board. Many have been made with neutral arches already, and they're beginning to explode in popularity.
While there are certainly some who will be best served by investing in running shoes that have been designed for those who over or under pronated, the majority will undoubtedly enjoy all the comfort and performance that comes from more neutral base shoes.
Another thing that you're probably going to want to look into is making sure that your running shoes fit the shape of your foot (at least as far as width is concerned) while making sure that you're adding in a full toe box.
The full toe box will give you the ability to move around a little bit in the front of your shoe, avoiding all of that friction and rubbing that comes from shoes that are too tight in the toe box but perfectly fine everywhere else.
Some of the smartest investments include other running shoe technologies like shock absorbers, comfort insoles, and other breakthrough innovations that should probably be approached on a case-by-case basis. However, you'll want to look closely at some sort of shock-absorbing technology.
Solving the problems of tightness, blisters, and friction by moving forward with a more neutral based shoe and one that fits your feet perfectly can create several issues on your knees and hips, especially if you have no built-in shock-absorbing features. This can undoubtedly cause many ripple effects throughout your body, and though you may fix the initial problem you were dealing with, you may just create another one.
Look for flat-footed running shoes that have shock absorbers built right into the shoe, invest in comfort soles designed for shock absorption, or make sure that you're always running with socks that have been designed to do the same. Some people may go to great lengths to eliminate hip and knee pain through the use of compression shorts or pants or many other extra running accessories, but those decisions are entirely up to you.
Last but not least, you'll want to try and strength in your feet, legs, and core muscles on a gradual basis. While never being able to "re-mold" or "reshape" your feet, putting them through a continuous training process will toughen them up and allow you to exert more and more force as you move forward. While this has little to do with the shoes that you choose, it's a smart tip for those of us who are running with flat feet.
4. What kind of things should I avoid at all costs when looking around?
One of the biggest problems that we flat-footed folks have to deal with regularly are shoe companies who push out many "flat-footed running shoe" models that have no real benefits whatsoever – and in some cases can even be worse for us and more traditional or "normal" running shoes.
To throw on many bells and whistles to draw our eyes, many of these technological advances or benefits designed to boost our flat-footed running experience are nothing more than cosmetic changes. Several shoe companies have been busted for putting "fake" shock absorbers on their running shoes – then doubling back and saying that it was a strict fashion and cosmetic-based decision.
Try not to get sucked into all of the big promises that so many of these companies make when it comes to their flat-footed running shoes, and always make sure that you try on the shoes for yourself. While there are only a few running shoe companies or businesses around the country that will allow you to try out their shoes (actually run in them) for a couple of weeks before committing to purchasing, it's well worth seeking them out.
5. Here are a handful of brands you'll want to look at
Last but not least, I must leave you with a couple of pieces of insider information to help you make sure that you are purchasing from brands that give you the best chance to enjoy flat-footed running.
Nike makes many of the high-quality designs and some models that have been designed for flat-footed runners in specific. While they can be a little bit expensive, it's hard to argue with their track record of success.
New Balance also makes some of the highest quality models for flat feet, and they almost always fit anyone's budget. Not nearly as sexy or attractive as the Nike shoes, they're still pretty good. Adidas has entered the "flat-footed running" world as well, but they're not as good as the other two listed above.
This list of friends is nowhere near complete, and you're going to want to try on different pairs from different companies to make sure that you found the ones perfect for your specific needs.
6. Why Choosing The Right Running Shoes Is Important
In the world of track meets, marathons, and other running-related activities, there is perhaps nothing so important as having the best running shoes money can buy. A well-made pair of athletic shoes can not only help boost the athlete's performance but even protect their health and very lives in some cases. Read on to learn more about the performance of top running shoes and some of the best brands currently available today.
The Importance of Selecting the Best Running Shoes
If runners do not wear quality shoes, a host of problems may arise, such as poor posture, shin splints, sprained ankles and knees, muscle strain, and even broken bones. Wearing ill-fitting shoes for an extended period could even potentially plague the runner with chronic pain for the rest of their lives. Selecting shoes that do not have the proper moisture-wicking materials could also trap germs that could cause serious bacterial or fungal infections. These are just a few of the problems that come from poor quality running shoes.
The Construction of the Best Running Shoes
Protection is the main factor in selecting the best running shoes for your needs. Running shoes must have superior shock absorption, flexibility, and durability. Considered to be the most critical part of the shoe, the midsole is the cushioned layer between the shoe's upper and outer soles, and a lot of cutting-edge technology goes into the midsole, using air, gels or other materials. The top is also significant, as it must be able to reduce the heat from inside the shoes, yet be padded enough to eliminate painful friction from the laces.
How to Select the Best Running Shoes
The selection of a runner's shoes may be an essential purchase an athlete can make. Therefore, it is crucial to be sure that the shoes fit perfectly. Besides checking to see that the shoes are washable and made with high-quality materials, the shoes should be tried on before purchasing – late in the day, when the feet are naturally at their largest. It is also advisable to wear the same socks during the fitting that will be worn during the Running.
Current Top Brands of Running Shoes
There is a substantial market for high-quality running shoes, so it is no surprise that the competition is fierce. Several brands are wanting to lay claim to being the best running shoes, and one such brand is the Mizuno Wave Hawk, which is known for its cushioned midsole and breathability. Another highly-regarded model is the Asics Gel Blackhawk 4. With a high abrasion-resistant upper and the Rearfoot Gel system of cushioning, the Blackhawk 4 offers premium comfort. Both of these brands are available in sizes for ladies as well as men.
As one of the most critical investments an athlete can make, the selection of the best running shoes that can be found is not a decision to take lightly. Care should be taken to ensure a proper fit, and plenty of attention should be paid to any existing foot problems. If these tips are followed, even the most severe runner can enjoy the use of his or her professional running shoes for a long time.
7. Quality Running Shoes Get You Further
Running is a simple exercise that just about anybody can do. You don't have to join any gym or fitness classes or buy any equipment. All you need is the desire, a strong will, the time and of course a pair of decent running shoes!
Believe it or not, some runners or joggers don't care about the type of shoes that they wear. You might see them in tennis shoes, pumps, or any other shoes that might be right for any other sports except for running.
Not a very wise thing to do when you consider that experts research and design specific types of shoes to particular kinds of exercise or sport. They have covered almost all aspects, including comfort and health. So, it is best to put on a pair of running shoes specially designed for jogging or running, not trainers or tennis shoes.
Running shoes are specially made to protect the feet from the stresses of running. They usually have a little heel elevation to reduce stress on the Achilles tendon. They also have a larger toe box, offer more shock absorption and better pronation control than tennis shoes. They also place extra emphasis on cushioning.
By wearing the best running shoes, you help yourself to avoid injury. Sensibly, it is better to own two pairs of runners, not just one. That way, in wet weather, you will have a dry couple waiting for you to change into.
When you go shopping for a pair of running shoes, it's always best to buy towards the end of the day because, by that time, your feet are usually a bit swollen. This is necessary because it's quite reasonable for running or jogging to cause your feet to expand. You should also try them on both feet. Walk around in them, check out if they are comfortable enough for you. If you are buying online, take these things into account.
Remember to look for and buy good quality running shoes. They will be the only thing between you and the asphalt running track or hard pavements. So, spending a little more money is worth it. If your finances are limited to watch out for online or high street sales, it's always possible to get more for your money when the sales are on.
It's best to replace your old running shoes after around 350-400 miles or after a year of wear if you use the shoes just for running, not for other activities. Probably sooner if you wear them for other activities, another sign that you need to buy a new pair is when you start to feel uncomfortable wearing them. If you don't replace worn shoes, you could be inviting injuries. It's best to take notice of your runners to get the maximum benefit from your exercise.
Marathon And Long Distance Running Shoes
In the vast world of marathon and long-distance running, the unsung heroes of these events are the athletes' shoes. They hold the runner up for hours at a time, providing comfort, stability, and grip, and keep the athlete's posture and physical health a top priority. For competitive runners, acquiring the best running shoes that money can buy is one of the most significant, most important investments that can be made. There are several tips available that can help smooth out the processes of selection, maintenance, and more.
Marathons and Other Popular Sports Involving Running
The marathon is one of the most popular and well-known long distances running events. The official distance for a marathon is 26 miles, 385 yards, which was only standardized in the year 1921, although marathons have existed for years throughout history. Many people also enjoy long-distance track events, which are strenuous and require entrants to conserve energy. Stamina is the key for long-distance runs, rather than speed, and running for long periods requires the best running shoes possible.
Why Good Running Shoes Are So Important
Marathons, long-distance track races, sprints, and all other running-related athletic activities are tough on the bones and muscles of the feet and legs. Without proper protection, shin splints, sprains, bone breaks, chronic pain, blisters, and many more unpleasant side effects could be a result. In addition to this, running for long periods can cause a build-up of dirt as well as the absorption of increasing amounts of sweat. When the dust and moisture are not adequately wicked away from the skin, a potentially dangerous bacterial or fungal infection could occur.
How to Choose the Best Running Shoes for Competitive Sports
When choosing a pair of running shoes for competitive purposes, long-term support is the most crucial aspect to consider. It is essential that the boots can sustain the runner comfortably for an extended period, while simultaneously managing moisture and maintaining good posture. Always try on the shoes before purchasing them, and when doing so, wear the socks that would generally be worn during the Running.
With the upcoming season of marathons, track events, and other running competitions, getting the best running shoes, your money can buy is going to be a high priority. Always be sure that the shoes are comfortable and well-fitting, as well as easy to maintain and machine washable. With a supportive, durable, and comfortable pair of running shoes, running that next marathon will be a fun and pleasant endeavor.
8. The Best Running Shoes For Competitions
Competitions for Running have been around throughout the entire history of humankind, and are still alive and well today. Millions of people participate in these popular sports events year after year. However, what many of them may or may not be aware of is the fact that these sporting activities can be very stressful on the body, and the feet, in particular, creating the need for proper protection. Sufficient running shoes should always be used in these cases. Read on for information on some of the best running shoes for these popular sports.
Athletic Sports Involving Running
Several athletic activities involve running. Perhaps one of the most common is the track running, which consists of either individual or group participation in a pre-specified area. Marathons are frequent as well, with the involvement of people of all ages and walks of life, and covers an official 26-mile distance. Many people are also involved in sprint races, which are short-distance races and among the most ancient of running events. Using the best running shoes possible is beneficial for all of these events.
Possible Consequences of Running with Inferior Shoes
No matter how mild the running event may seem, even jogging requires the use of the best running shoes possible. An upcoming competition makes the need for sufficient footwear an even higher priority. A few of the problems that could result from poor quality shoes include shin splints and bone breakage, muscle strain, and blisters. Additionally, shoes that do not adequately absorb moisture can produce odors and germs that could cause dangerous bacterial infections and fungus.
How to Select the Best Running Shoes for Your Needs
There are a few general guidelines to reference when selecting a good pair of competition running shoes. Perhaps the most obvious of these are in regards to the fit. A runner should never purchase a pair of shoes that are uncomfortable, as the discomfort will triple during heavy usage and potentially cause blisters and sprains. It is advisable to try on the shoes late in the day as the feet will be at their largest while wearing the same socks that will be worn during the activity. Be sure that the shoe's materials are durable and washable.
9. How To Maintain The Best Running Shoes
Maintaining running shoes may not seem like a big deal to many people, but it is, in fact, an essential aspect of owning them. When picking out the best running shoes for your needs, it is necessary to think ahead about what their proper care will entail. Read on to learn a few of the most effective tried-and-true methods for taking care of athletic running shoes.
Shopping For Easy-to-clean Running Shoes
When searching for the best running shoes for your specific needs, how easy to clean, they are maybe one of the deciding factors in the purchase. When looking for a new pair of athletic shoes, it may benefit the user to learn what materials the shoes are made from, so that the proper steps can be taken for their maintenance. Look for shoes that specify that they are machine washable, or otherwise easy for the user to clean and maintain, and shoes that are made from breathable materials, as they will require less cleaning.
Why Cleanliness Is So Important For A Runner's Shoes
When preparing for a track meet, a marathon, or any other occasion that calls for specific athletic gear, a runner will want to use the best running shoes for the job. And when the boots are muddy, smelly and worn out, the runner cannot precisely put his or her best foot forward. Water-damaged shoes are not only uncomfortable but can also cause bacterial infection, as can mud and dirt. Therefore, dirty shoes are not only a cosmetic problem but a potential health hazard as well.
How To Clean Running Shoes
With a significant investment like the best running shoes, money can buy, it is essential to know how to maintain them. Some of the most common problems are dirt, water, and odors. When shoes have been soaked in water or other liquid, a quick fix is to stuff crumpled newspaper into them. Leaving them for several minutes can absorb most of the water, after which a dryer can be used to remove any remaining moisture. For the removal of mud and dirt, a damp cloth should suffice, followed by gentle brushing.
Running shoes are the most crucial part of a runner's athletic gear, and they should be treated as such. Dirt, mold, water damage, and other issues can be not only annoying but detrimental to the runner's athletic performance and very health. When an athlete purchases the best running shoes available, the proper care should always be taken to keep them well maintained, ensuring their longevity.