If you are one of them who completely tired to find the best running shoes under 500 rs and to look to buy the best running shoes under this budget range, then you are in the right place.
Best running shoes under this budget segment is one of the toughest tasks for us because, in this budget, you will find fewer brand options that prove quality and durable shoes.
But after deep research, we finally make this list who has a good brand tag as well as good features with a strong build quality.
10 Best Running Shoes Under 500 Rupees In India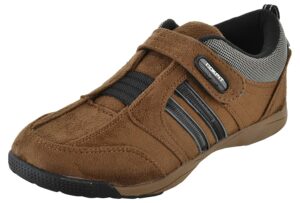 Design For:- Men/Women
Sole Type :- TPR
Lifestyle:- Casual And Running
Return Policy:- 10 Days
If you are looking for shoes under 500 to 600 rs, then this Cokpit Men's Running Shoes is our priority for you.
This Cokpit Running Shoes are not only comfortable to wear but also make a distinct statement with its suede outer and synthetic border design.
Cokpit Running Shoes outer suede layer gives a soft, napped feel and premium while you were using it.
The pair of shoes comes with a TPR sole, which is Thermoplastic Rubber. The Thermoplastic rubbers sole provide great aesthetic versatility, durability as well as full recyclability.
---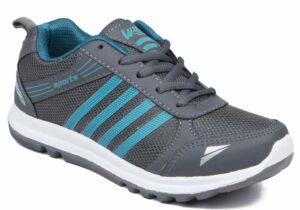 Closure:- Lace-Up
Sole Type :- TPR
Material Type:- Mesh
Lifestyle:- Running And Support
Asian shoes are for regular use used. This Asian Running wonder 13 shoe comes with grey color with a light blue accent.
The upper material keeps air circulation while the moderated ankle takes full care of your feet when you go out for running.
If you are the person who passionate about Running, Jogging, Gyming and any sport and searching sporty and running shoes, then check out our articles.
This Asian sports shoe made with outer mesh material for superior comfort and ventilation.
The Lace-up enclosure ensures a firm fit while still being comfortable while you are playing or a day out.
Allow your pair of shoes to air and de-odorize at a regular basis, this also helps them retain their natural shape and stay fresh.
---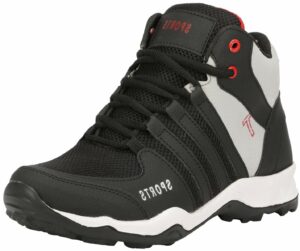 Design For:- Men
Sole Type:- EVA
Lifestyle:- Running Shoes
Return Policy:- 10 Days
Kraasa Men's Sports Shoes is a perfect choice for those who were looking multitasking shoes for Casual, walking, running, sports, gym, and other outdoor athletic sports.
This Kraasa Men's Sports Shoes ic comes with four color choices, including Grey, Navy, Royal Blue, and Black.
The shoe's heathered mesh upper provides extra breathability and proper airflow. It helps in keeping your feet fresh and comfortable even during vigorous activity.
The lightweight yet solid PVC sole provides superior traction to accommodate any terrain. Flex grooves allow your foot to move naturally.
The shoes insole is cushioned with a soft inner lining and memory foam for comfort and support. The lightly padded tongue and collar provide extra comfort.
---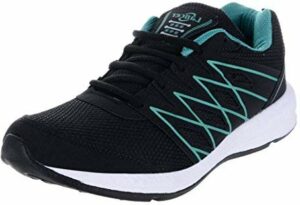 Design For:- Men/Women
Sole Type:- Manmade
Sole Material:- EVA
Lifestyle:- Multi-Tasking
Lancer is a popular brand well known as making quality shoes that come with the sturdy build but also stylish design.
The Lancer  Men's sports made from using mesh material, and it is available in six different color options like Black Green, Green, Blue, White Navy, Grey Orange, and Navy Red.
The lace-up closure allows the shoes to have a sung fit balanced with comfort. The flexibility of the laces maintains a firm grip to provide the right amount of support to your feet.
This Lancer  Men's sports shoes will be able to use not only for running or sports but also for casual and other occasions.
---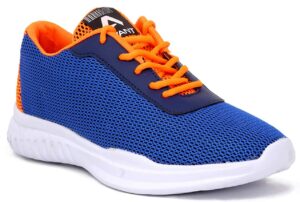 Design For:- Men/Women
Sole Type:- Manmade
Sole Material:- Ethylene Vinyl Acetate
Outer Material:- Breathable Mesh
Avant is also the most valuable brand, just like Sparx and Lancer. This Avant Nitro is the best budget of shoes. It is perfect for those who love the design and ultra-lightweight shoes.
These shoes have central lace-up, mesh, and synthetic upper Cushioned footbed with raised heel padding and removable insole padding for better shock absorption and energy return.
The rubber outsoles absorb the shock and offer a perfect grip for the user in wet and dry conditions.
The best thing with these shoes is that it comes with a very attractive colourful design with Dark Grey, Green, Grey, Navy blue and orange colour options.
---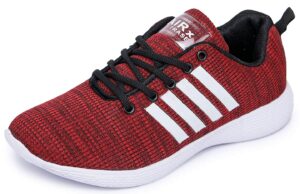 Design For:- Men/Women
Sole Material:- EVA
Material Type:- Fabric And Synthetic
Lifestyle:- Running And Other Sports
The Trase SRV Relex multi vibrant color and durable built shoe come with the most loving color choice, which gives you the freedom to choose your favorite shoes.
No doubt, Trase SRV Relex design-wise looks very comfortable and robust build, many customers reviewed that this is best in each angle, only the thing which disappointed to a customer is that its hard sole.
The most interesting thing with these shoes is that it is available not only for the young generation but also for the kid generation. You can buy these shoes from size 2 UK to 10 UK size with available Navy-Blue, Wight-Blue, Grey-Orange, Black, and Red.
---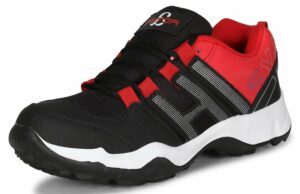 Design For:- Men
Outer Material: -Synthetic  Material
Material Type:- Synthetic
Lifestyle:- Sports
Acto Ac1036 is another best budget shoe that comes with Red and Black, a combination single color option.
In terms of quality, it is perfect for the young generation as well as it is an appealing and sporty look that attracts you.
The manufacturer used Synthetic material to build these shoes, but the company doesn't mention the inner element and sole material.
The best thing is that the shoes are available in all standard sizes so you were able to buy these shoes as per your foot size.
---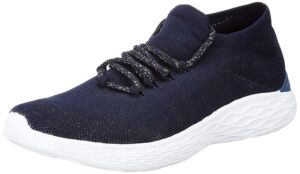 Design For:- Men/Women
Material Type :- Mesh+ EVA
Lifestyle:- Sports
Return Policy:- 10 Days
Fusefit Sung also best budget shoes come under 500 rupees price range. Fusfiet Sung shoe is a comfortable walking shoe that comes with premium quality KNITTED upper provides breathability and better grip. Soft EVA insole for better comfort and cushioning.
Airknit technology enfolds the foot to give you a natural stride and yet, boosts performance. The shoe with it's breathable, and the form-fitting upper is sung and seamless.
Bounce back from any hurdles with bounce mat technology designed to spring back into shape, no matter what your work out.
Superlite sole is an exceptionally light sole that creates natural stride. Built for every level of performance, these feather-light soles with reactive cushioning.
---
Action shoes are also a well popular brand in India. Action brand builds Fitness freak sporty and causal shoes in the India market, which is available everywhere.
This Action Running shoe is perfect for all the sports-related work as well it is good to wear on special occasions. But especially these shoes are made for running and walking.
This shoe is available in three different colour option including Black, Grey, and Orange with 6 UK to 10 UK size choice.
---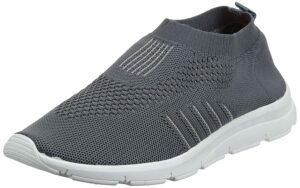 Design For:- Men/Women
Sole Material:- EVA
Lifestyle:- Sports
Return Policy:- 10 Days
Bourge offers performance and sports-inspired lifestyle products in categories such as running, training, and fitness.
Using high technology and design innovation, Bourge continually creates what is aspire and not what is necessary.
These Bourge running shoes come with high performance, durability, and exceptional comfort. This bourge sports running shoe is exceptionally stylish; it has EVA bounce back sole, which gives extreme comfort during running, walking, jogging, and other ground sports conditions.
This Bourge shoe has a wider range of floater, of which one can choose as per the occasion. Apart from the tendency, it's also comfortable, breathability and fit grip.
Conclusion:-
These are the top 10 best running shoes under 500 rupees who give you the value of money quality and features. We highly recommended you to buy shoes from our provided list because we created this list after considerable research.
If you have any queries feel free to ask anything we resolve your questions as soon as possible, and if you have better suggestions for us, then comment mention below your opinion. We are always ready to adopt your ideas.