General
Embark on Amazing Adventures with the Best Camping Tents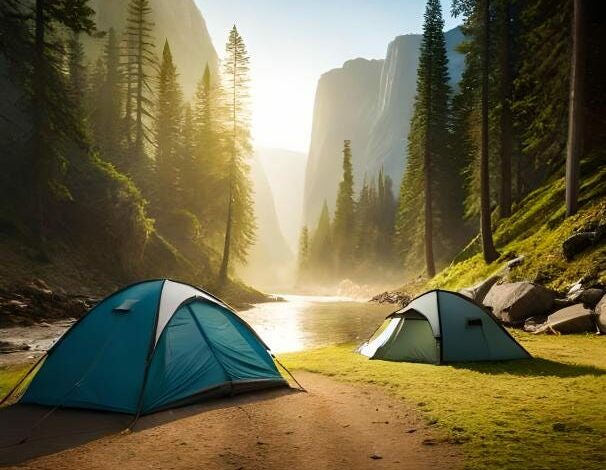 There's something truly magical about setting off on a camping adventure – leaving the hustle and bustle behind and immersing yourself in nature's embrace. To make the most of your outdoor escapades, a reliable camping tent is essential. Whether you're a seasoned explorer or a beginner camper, finding the perfect tent can significantly enhance your camping experience. In this guide, we'll unveil a selection of top-notch camping tents that are sure to elevate your adventures to a whole new level.
1. Coleman Sundome Tent
The Coleman Sundome Tent is a beloved classic that's perfect for campers of all levels. With its straightforward setup, affordability, and dependable performance, it's an excellent choice for weekend getaways. The WeatherTec system ensures you stay dry, even during unexpected rain showers. Available in various sizes, it's suitable for solo travelers, couples, or small families.
2. MSR Hubba Hubba NX Tent
For those seeking a balance between lightweight design and comfort, the MSR Hubba Hubba NX Tent shines brightly. This freestanding tent is a favorite among backpackers due to its spacious interior, easy assembly, and impressive weather resistance. Its versatility makes it ideal for various terrains and climates.
3. Big Agnes Copper Spur HV UL2 Tent
If lightweight and compactness are your priorities, the Big Agnes Copper Spur HV UL2 Tent won't disappoint. Engineered for minimalists and backpackers, this ultralight tent offers impressive headroom and top-quality materials. Quick and easy to set up, it's a perfect companion for your backcountry adventures.
4. Nemo Equipment Dagger Ultralight Tent
For couples or close friends, the Nemo Equipment Dagger Ultralight Tent is designed to maximize comfort and space. With its unique design, roomy interiors, and two doors for easy access, it's a fantastic choice for sharing a cozy camping experience. Its lightweight construction makes it an excellent option for backpackers.
5. REI Co-op Half Dome Plus Tent
The REI Co-op Half Dome Plus Tent is a versatile choice that strikes a balance between comfort and adaptability. With multiple doors for easy entry, roomy interiors, and thoughtful storage pockets, it's perfect for adventurers seeking a well-rounded camping experience. Its durability ensures it can withstand various weather conditions.
6. Eureka! Copper Canyon LX Tent
For families or larger groups, the Eureka! Copper Canyon LX Tent offers cabin-like comfort and convenience. With its spacious design and sturdy construction, it's great for creating memorable moments with your loved ones. This tent is an excellent choice for those who prioritize ample headroom and interior space.
7. Black Diamond Firstlight Tent
For the daring souls who embark on alpine or mountainous journeys, the Black Diamond Firstlight Tent is a dependable shelter. Designed to withstand extreme conditions, this ultralight tent offers quick setup and remarkable weather resistance. It's a must-have for adventurers who demand rugged reliability.
Choosing Your Ideal Camping Tent
Selecting the perfect camping tent is a personal endeavor, influenced by factors like group size, desired comfort level, and intended camping environment. Consider aspects such as tent size, weight, weather resistance, and setup ease when making your decision. No matter your choice, a well-selected camping tent will undoubtedly enhance your outdoor explorations and create lasting memories.
Discover the top-rated options for the best camping tents, essential for creating unforgettable experiences during your outdoor adventures. Our blog on 'Camping Tents for Amazing Adventures' has all the insights you need to choose the perfect shelter for your upcoming trips.
Embrace Nature's Beauty and Freedom
As you venture into the wild, your camping tent becomes your haven, a place where you rest, rejuvenate, and connect with nature. Embrace the breathtaking landscapes, revel in the starry nights, and savor the freedom that camping offers – all while knowing you have a reliable and comfortable shelter to return to. Happy camping, and may your adventures be truly amazing!
FAQs
1) What's the advantage of an ultralight tent?


Ultralight tents are designed to minimize weight without sacrificing essential features. They're favored by backpackers and hikers who prioritize lightweight gear during long treks.

2) Can I use a family tent for solo camping?


Absolutely! While family tents are designed for larger groups, there's no reason you can't enjoy the extra space for solo camping. It might even provide room for your gear inside the tent.

3) What's the benefit of having multiple doors in a tent?


Tents with multiple doors offer easier access for everyone inside the tent, reducing the need to climb over others to get in or out. They also provide better ventilation options.

4) Are freestanding tents easier to set up?


Yes, freestanding tents are typically easier to set up since they don't rely on stakes to maintain their shape. This can be advantageous in rocky or hard ground conditions.