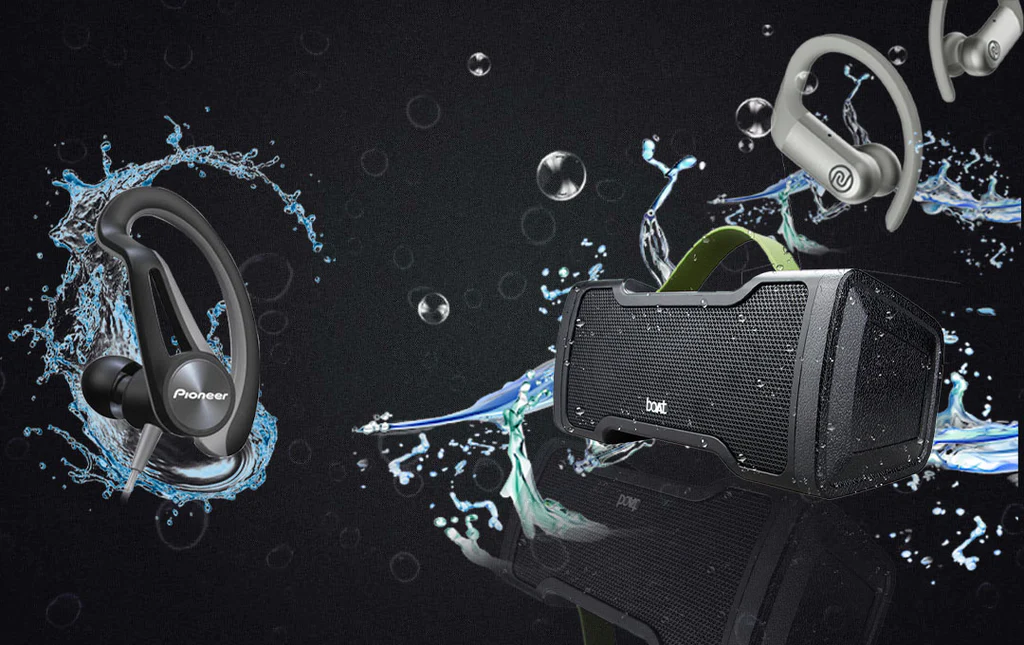 If you're looking for a new pair of headphones or Bluetooth speakers, you'll probably want to consider their IP rating. But what does it mean? And why is it important? In this blog post, we will explain what IP ratings are and what they mean for your audio equipment. We'll also provide tips for selecting headphones and speakers based on their IP rating.
So, let's get started without taking any more time with introductions!
IP Ratings In Bluetooth Speakers & Headphones
In this digital world, we all are dependent on electrical things for our daily schedule of life so when purchasing an electronic device such as a smartphone, Bluetooth speakers, and earphones it is sure that we have heard about IP ratings of the above devices at once. 
Bluetooth speakers and headphones are some of the demanding devices which are very common among people for their daily purposes and obviously, these are the most used electric devices used along with smartphones and laptops. That is why the above devices have a great chance to come in contact with water, sand, sweat, and dust at home and out of home as well.
This IP rating tells the durability of such devices and their resistance to sun, rain & dust. If we know about the IP ratings then we can easily decide while purchasing such kinds of things which is surely helpful for us especially in the time of this digitalization.
What Is An IP (International Protection) Rating?
Now we will discuss what an IP Rating is and the things to keep in mind while purchasing devices like Bluetooth speakers and headphones.
IP ratings which are known as International ratings or Ingress Protection consist of 2 numbers or digits which tell us about the protection against solids and liquids. The bigger the number the better the protection. It tells the ability of the product to resist and stop some environmental elements like rain, sand, dust which may harm the device. 
It is usual that we need to go outside the homes but how often you would stay indoors because your device may get damaged but we need not be worried when a device is water-resistant.
Through rigorous testing, International standards provide credibility to devices that qualify to receive IP ratings. To increase the durability of the product being long lasting many different brands follow these things:
So whenever we purchase devices like Bluetooth speakers and earphones we must check their IP ratings.

If someone is looking for good Bluetooth speakers or earphones then it has an IP rating of IPX5 at least.

The devices having a rating of IPX4 are considered to be Splash resistant while manufacturers also claim them to be sweat resistant, thus they make a good choice for heavy workout sessions so that people can get attracted toward the devices.

If someone wants to buy a speaker to carry on the beach then the device should have an IPX rating of at least 5 or 6 desirable.
IP Code
The IP rating indicates the level of protection of a device against water or dust. It is a requirement to notice that not all products are meant to withstand solid and liquid elements.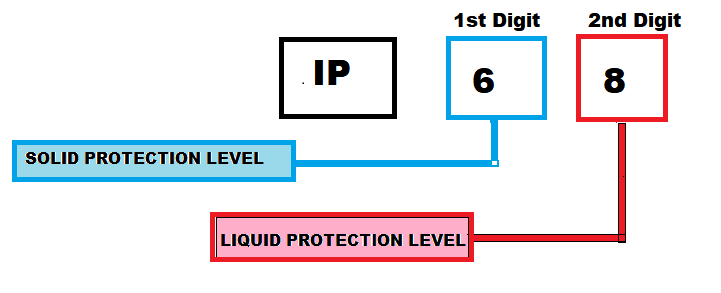 It is necessary to know which IP rating provides what types of protection because they are different IP codes that vary accordingly.
There are two digits in  IP ratings; the first digit represents protection against solid elements like dust and sand. If you get a product rating that ranges from 1 to 6 higher ratings are better.
The second digit represents resistance against water or sweat. If the product rating is from 1 to 8 then 8 is the best or probable rating for a good and protected device.
Most Common IP Ratings in Bluetooth speakers and Headphones
Check out these popular IP ratings so that you can make an informed decision quickly when choosing Bluetooth speakers or headphones.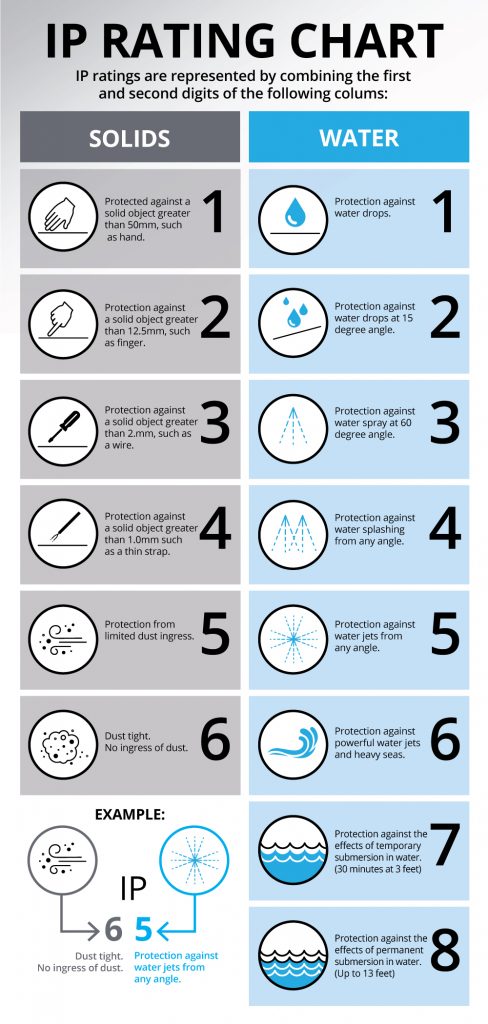 IP65
IP65 is protected against water jets from any angle. It has a resistance to dust or it is dust tight.
IP67
 protect from full dust ingress and short water submersion protection for Bluetooth speakers and AirPods.
IP68
It has the best available IP protection that Bluetooth speakers and Devices can have at least in the Indian market. This provides full protection from dust and water without any damage.
Sometimes you find an IP rating with a number replaced with an X such as IPX7. So whenever a company does not provide the details of the test in such a situation, the rating number is replaced with X.
IPX4
Basically, Bluetooth speakers which have the IPX4 ratings have no protection from solid particles, but momentarily protection from water from any side.
IPX5
These are the affordable Bluetooth speakers air Birds and earphones which have protection from low pressure water jets.
IPX7
Bluetooth speakers and headphones having a rating with IPX7 have no offers to protect the device from solid particles but the above device can work a brief complete water immersion.
FAQs
What Is The Difference Between IP And IPX Rating?
The IP in IPX stands for Ingress Protection, which is basically the level of protection against what could enter and harm the light, such as dust, objects, and water. The IP ratings indicate the level of protection against solids and liquids in various devices. 
The IP rating code consists of two numbers, the first indicating the degree of protection against solids, and the second indicating the degree of protection against liquids. So for example, an IP65 rating would mean that the device is protected against dust (6) and water jets (5). The higher the number in the rating code, the greater the level of protection.
Can I Shower With IP68 Waterproof?
Yes, it is safe to use an IP68 Waterproof device while taking a shower. IP68 water protection means that a device can be submerged in up to 1.5 meters of water for up to 30 minutes without sustaining damage. 
So as long as your device (phone or headphone) is still in its protective casing and you're not submerging it for more than 30 minutes, it will be fine in the shower. Just make sure to dry off the camera lens and any other openings on the phone before using it again (if you are using the phone when taking shower).
Can IP55 Withstand Rain?
Having an ingress protection rating of IP55 means that the device is protected from dust and low-pressure water jets. This does not mean the device can be submerged in water. Although the device is not rated for submersion, it is waterproof in the rain and against splashes.
Is IP55 Suitable For Outdoor Use?
The IP55 rating means that the speaker is protected against dust and water jets. It does not mean that it can be used outdoors in weather conditions. For outdoor use, you will need a speaker or other devices with an IP rating of at least IP67.
Final Words
Bluetooth headphones and speakers are becoming increasingly popular, as they offer a convenient way to listen to music without having to be tethered to your device. If you're buying a Bluetooth speaker or headphones, you should consider the IP rating, which indicates whether the product is waterproof or not. 
It becomes imperative to choose the right product to do the right stuff in your life. It doesn't matter what device you use, it is part of your daily life. Even a device has great importance in your life because it has to be with you. After discussing so many IP ratings we can say that the bigger the number the better the protection (of an IP rating) if we have known it then it will surely help you out. 
Knowing what the various ratings mean will help you know whether your device will be protected against water and dust. Hopefully, this article has helped you better understand IP ratings and how they apply to Bluetooth devices.
Indoors, the IP rating of Bluetooth speakers and headphones isn't that important. But when you intend to use it outside, you should verify what kind of IP protection you will have. If you have any questions regarding this topic, please don't hesitate to leave them in the comment box. 
Thanks for reading and have a great day!