Fashion
Lift in Style: Activewear Fashion in 2023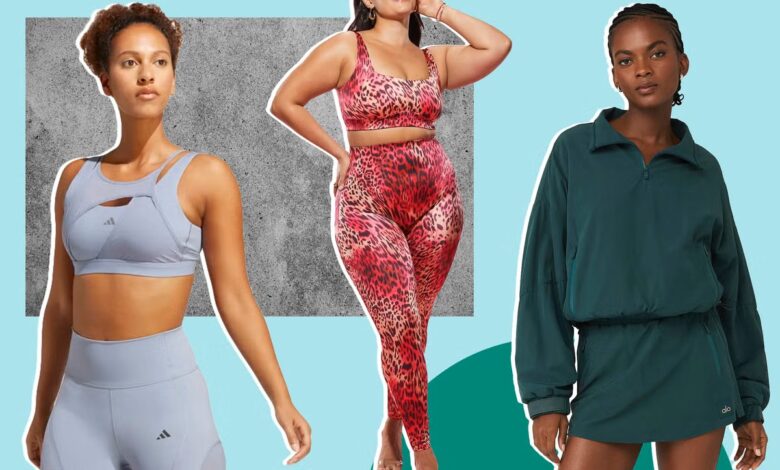 Activewear has undergone a remarkable transformation, transcending its functional roots to become a vibrant fusion of style and performance. And this year, it's all about embracing bold colours, captivating prints, sustainable fabrics, and inclusive designs. So get ready to unleash your inner fashionista and discover the latest trends that will elevate your workout clothes wardrobe. From the gym to the streets, let's dive into the exhilarating realm of activewear fashion and conquer 2023 with unparalleled style.
Vibrant Colours and Prints
Activewear is all about embracing vibrant colours and bold prints. So, say goodbye to muted tones and hello to an explosion of colour. From neon greens and bright pinks to electric blues and fiery oranges, different brands incorporate eye-catching hues into their collections. Additionally, expect to see playful and energetic prints like tropical motifs, abstract designs, and geometric patterns. These vibrant colours and prints add visual appeal, inspire confidence, and energise your workout routine.
Sustainable and Ethical Fabrics
With sustainability taking centre stage, activewear brands are incorporating eco-friendly and ethical fabrics into their collections. So, look out for fabrics made from recycled materials, such as recycled polyester or nylon. These fabrics help reduce waste and offer excellent moisture-wicking properties and durability. Additionally, brands focus on organic cotton, free from harmful chemicals and pesticides. By choosing activewear made from sustainable and ethical fabrics, you can contribute to a greener future while looking stylish.
Innovative Design Feature:
Activewear is no longer limited to basic leggings and t-shirts. So in 2023, expect innovative design features that enhance functionality and style. As such, look for options with built-in pockets for convenience, such as hidden waistband pockets for your keys or phone. Brands also incorporate adjustable straps, mesh panels, and cut-out details for added breathability and style. Ruching, lace-up accents, and asymmetric designs are making their way into the workout clothing world, adding a touch of uniqueness to your workout wardrobe.
Inclusive Sizing and Body Positivity
Workout clothing brands are increasingly embracing inclusive sizing and body positivity. So, expect to see a wider range of sizes catering to diverse body types. Brands recognise the importance of providing comfortable and flattering options for all individuals, regardless of their shape or size. So, look for manufacturers that offer extended size ranges and focus on body-positive marketing campaigns. This clothing is for everyone, and the industry is taking strides to ensure that all individuals can feel confident and stylish while working out.
Versatility Beyond the Gym
Activewear has transitioned from gym-specific clothing to versatile pieces that can be worn beyond the workout. And now, brands are creating workout clothes that seamlessly blend style and functionality, allowing you to effortlessly transition from the gym to running errands or meeting friends for a casual outing. Hence, look for options that can be mixed and matched with other wardrobe staples or pieces that can be dressed up or down depending on the occasion. Nevertheless, they are now a fashion statement that reflects your active and stylish lifestyle.
In 2023, activewear fashion is all about embracing vibrant colours, bold prints, sustainable fabrics, innovative design features, inclusive sizing, and versatile styles. With activewear becoming a wardrobe staple, you can lift in style and make a fashion statement while prioritising comfort and functionality. As such, embrace the latest trends, express your unique style, and feel confident as you conquer your fitness goals. Remember, activewear is not just for the gym but a reflection of your active and fashionable lifestyle. So, lift, run, and move in style in the dynamic world of activewear.