By introducing a new standard, the Video Electronics Standards Association (VESA) hopes to simplify the process of purchasing your next monitor or TV. You might be thinking that there are already too many VESA standards to keep track of between DisplayPort, DisplayHDR, and AdaptiveSync. Well, absolutely, but the group's newest certification programme might help clarify one of the more enigmatic parts of purchasing a new display: performance in terms of motion clarity.
If you recently invested time in researching your upcoming monitor or TV purchase, you likely have a decent understanding of the issue. As an illustration, consider gaming monitors. Many manufacturers advertise that their products have 1ms gray-to-gray (GtG) pixel response times, but their motion blur management is subpar.
So, there must be so many questions in many people 's mind about What is Vesa ClearMr and What does it Mean? For more information scroll down.
HDR display performance is coming later
Performance for HDR monitors won't arrive right away. Regarding HDR displays, I'll make one additional point.According to VESA, the ClearMR specification and logo programme can be used with high dynamic range (HDR) products, despite the fact that the current edition of the specification mandates that products be certified using testing carried out in standard dynamic range (SDR) mode.A future version of ClearMR that will support testing in HDR mode is currently being developed by VESA.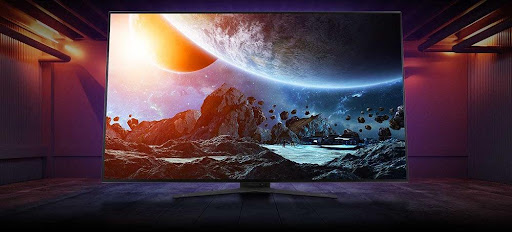 We don't know what it would involve, but we can only hope that it goes beyond simply operating the screen in HDR10 input mode and takes into consideration aspects like, for instance, how quickly the brightness dims. For example, it may affect a panel's response times, and appropriate FALD backlights typically require extremely precise tweaking to function properly with That may affect a panel's response times, for example, and appropriate FALD backlights typically require very careful tweaking to function well with high refresh rates, especially with things like VRR. Will VESA take this into account? Will a screen with a FALD, whose response times may be slightly affected so that HDR looks proper and ideal, be given a lower motion clarity rating than a screen with a low HDR 400 rating and no backlight dimming at all? even though the HDR on the first clearly looks miles better? What if, however, it was done in order to deliver an actual HDR experience, as opposed to the HDR 400 display, which offers no real HDR performance but instead earns a higher ClearMR rating? It's possible that the motion clarity is slightly impacted, hence this particular measure needs to be dropped a tier. It becomes difficult because there are many extra factors to take into account when assessing HDR displays.
THE VESA CLEARMR LOGO MEANING
A new motion clarity statistic from VESA is called the Clear Motion Ratio, or CMR. It essentially measures the proportion of clear to fuzzy pixels.  All tiers indicate a CMR Range rather than a single fixed value, as is shown in the graphic below. For example, displays that have received the ClearMR 3000 certification will have 25–30 times more clear pixels than fuzzy pixels. The ratio, when represented in percentages, will be between 2500 and 3000, as shown in the CMR chart below that shows the various stages.
VESA CLEARMR VS MPRT VS G2G :-
The next frame will exhibit some lag if the pixels don't entirely change state in a refresh cycle (16.7 milliseconds for 60Hz displays), which will appear as motion blur in scenes with rapid movement. According to a widely accepted industry standard, the time it takes for a pixel to transition from its peak black to its peak white state is used to evaluate blur for LCD and OLED displays.
Manufacturers typically utilize G2G response time and MPRT, or motion picture reaction time, as requirements to show motion clarity. G2G is the amount of time required to transition from one specific shade of gray to another specific shade of grey.This isn't a useful indicator because genuine material frequently entails changing from one shade of gray to another, or from one color to another entirely, which may take more time. MPRT is a measure of how long a pixel will be visible before going away.
The specification is mostly irrelevant because the majority of LCD displays currently claim a response time of less than 1ms for the change from one specific shade of grey to another. In real-world situations, several of these LCD monitors may respond faster than ten times.
Additionally, manufacturers use methods that generate unsightly artifacts onto images in order to improve response times.In actual use, an OLED monitor will appear to have a faster response time than stated. So sure, a metric that makes it simpler for users to assess motion clarity is very valued. VESA wants to give this with the new ClearMR certification, which is easier said than done.
VESA TEST A DISPLAY FOR CLEARMR CERTIFICATION:-
To capture images of test patterns as they transition from one frame to the next, VESA or its accredited labs use high-speed digital cameras. The pattern brightness is checked using a colorimeter. To keep everything on an even playing field, blur reduction techniques like backlight strobing are disabled. Other overshoot artefacts could come from manufacturers increasing drive voltage and speeding up transition reaction times. As part of the testing for CMR certification, Vesa restricts these image enhancing methods. The test is reproducible and irrespective of the display technology being employed.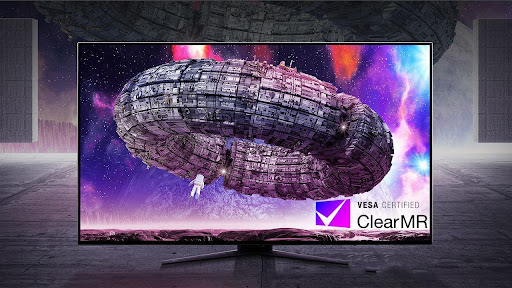 Each product is examined in SDR mode (HDR tests are under development).
All goods undergo native resolution testing.
The highest frame rate is used to test every product.
At ambient room temperature, all items are evaluated.
Conclusion
A few ClearMR-certified displays are currently available, but they leave more questions than they provide answers.
The ClearMR 7000 rating applies to LG's 48GQ900 (48″ 4K 120Hz OLED), 32GQ850 (32″ 1440p 240Hz), and 27GP850 (27″ 1440p 165Hz) monitors.
Even though they have the same certification, a 120Hz OLED panel and 165Hz and 240Hz LED gaming displays offer very different motion clarity.