Fashion
Start a Jewelry Business: Market Stats, Niche Information, & More
For many people, starting a new jewelry business is a dream come true. It can be a very lucrative and satisfying industry to be in. This industry may not need that much labor, however, it might cost you much investment to start. Remember that jewelries are still expensive and not your everyday products. 
This article discusses the jewelry business niche information. It also contains market stats on the jewelry business. The steps that you must follow to launch your own jewelry business are also outlined in this article.
Some Niche Information on the Jewelry Business
A key step in determining your business specialty is determining who your target market is. It's improbable that you will be able to decide which things to market to your customers if you don't know who they are. The most typical types of jewelry are listed below.
    1. Fashion Jewelry
Fashion jewelry, commonly referred to as costume jewelry, and is intended for daily use. Costume jewelry is made from cheaper imitation materials like wood and synthetic diamonds. A single piece of costume jewelry should be priced affordably, anywhere between $1 and $100. Most of this jewelry can be made from lab created diamonds or mined diamonds. Diamonds that were created by scientists in a lab are known as lab created diamonds. They are optically identical to genuine diamonds and have the same chemical composition.
    2. Fine Jewelry
Fine jewelry is made from precious metals and gemstones and is frequently associated with a high-end lifestyle. These include gold, silver, platinum, diamonds, and rubies. These jewelry items are fashionable, of great quality, and frequently worn on special occasions.
Fine jewelry items can range in price from $100 to $3,000 per piece. These depends on the type of materials used, size, sourcing, and brand reputation,
    3. Handmade jewelry
Customers are ready to pay premium prices for handmade jewelry and other goods. Handcrafted jewelry cannot be mass-produced. It is a good solution for business owners who want to produce and promote unique or personalized goods. Lab created or natural diamonds are well known to be used for handmade jewelry.
Lab created diamonds have the same level of authenticity as natural diamonds. Lab created diamonds are identical to earth-mined diamonds, other for the fact that they were created in a laboratory. Lab created diamonds also have lower prices because lab grown diamonds are produced in a very small amount of the time that it takes for natural diamonds to form.
Also, there are three key aspects you need to know:
Demographics:

This category covers factors such as age, gender, race, occupation, and income. For instance, a man in his 20s will choose different jewelry than a woman in her 60s. The simplest way to comprehend your audience is in this way.

Geographics:

The focus here is on location. You can probably sell anywhere in the globe with an online business as long as you can access it. However, you must also take the region, climate, and population density into account. Others from warm areas, for instance, could favor jewelry fashioned of a different metal than people from cold ones.

Behavioral:

How customers interact with your jewelry is the focus of this component. You must comprehend concepts like brand loyalty, shopping patterns, and purchasing motives. Knowing your audience will help you decide what to sell. You can sell lab created diamonds or high-end jewelry produced from rare stones. Everything is determined by the desires of your audience.
Market Stats of the Jewel Business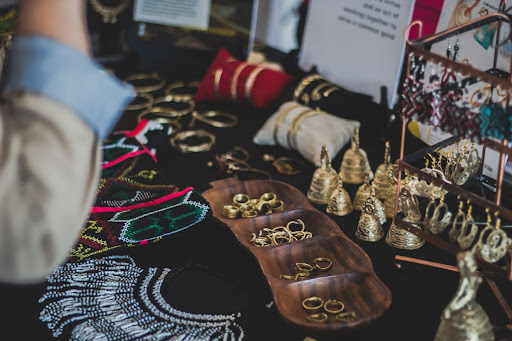 Since ancient times, people have adorned themselves with jewelry. It is one of the oldest and most popular types of self-expression. Jewelry whether it's a pricey diamond necklace or a straightforward charm bracelet. It can instantly boost a person's self-esteem and sense of style.
The market for high-end jewelry was estimated to be worth 22 billion euros in 2020.
By 2026, the jewelry market is projected to have grown from its current value of over 230 billion dollars to around 307 billion dollars. Lab created diamonds, which are frequently indistinguishable from natural diamonds. It is anticipated to become much more prevalent. and easily accessible soon, are one of the most intriguing new inventions in the jewelry business.
According to statistics, by 2025, the jewelry market is projected to be worth $480 billion. Fashion jewelry will continue to sell 10% better online than fine jewelry. It's challenging to make a significant purchase online without trying something first. When making purchases online, customers are more likely to choose cheap jewelry than those priced at $1,000.
Six Steps to Launch a Jewelry Business
The 6 steps you should follow before starting a jewelry business are outlined below.
     1. Pick Your Niche
Make sure there is a feasible target market for your jewelry business concept first. Especially one that isn't oversaturated. Customers typically have an idea of what they're looking for when they start their internet jewelry search. So it is important to always take into account the kind of customer you want to draw in and make sure you know what they're looking for.    
     2. Develop a Business Plan
You will require a thorough business plan whether you are self-funding or receiving money from a bank, family, venture capital firm, or fund. You can determine how many goods you need to produce and your path to profitability after you have a business plan in place. Additionally, a business plan gives you a more credible appearance to investors. It also gives you a fantastic opportunity to persuade them to invest in your company.
     3.Choose a Name
It's crucial to pick a name for your new company that is distinctive and memorable. It's one of the first things your clients will notice, after all. The name should convey your target demographic and the kind of jewelry you sell.
     4. Register Business and Apply for Insurance
After you have created your business plan, register your company with the appropriate government organizations. This includes registering your business name, opening a bank account, and obtaining a tax ID number. You also need to choose the type of business entity that you want to register as. You could register as a company, LLC, sole proprietorship, partnership, etc.
Depending on where you reside, you may need to apply for a number of licenses, permits, and insurance coverages before beginning your own jewelry business. Different rules apply depending on the state you're in.
     5. Create a Website 
You will need a professionally-designed website for your jewelry sales as well as for any online or offline store. Customers find out more about your brand and business thanks to this, and it also makes it simple for them to make purchases. Popular website builders like Wix feature themes designed exclusively for businesses.
     6. Determine Who Will Make the Jewels and Market Your Business
Self-made jewelry is produced by many jewelry designers, who then drop-ship it to customers. Jewelry-specific design software can be used. With the expansion, you won't be able to continue making jewelry in your house and garage. A third-party manufacturer may eventually need to handle all or part of your production. Finding a manufacturer who is dependable and has adequate quality control might be difficult.
Speak with local shops and boutiques and offer to sell your jewelry there or lend them some items for a fashion display.

Making a mailer: You can make a mailer that advertises your products and gives site visitors or customers of your online store a discount.

Using marketing materials: Product tags, business cards, and brochures can all be used to inform customers about your jewelry and how to buy it.
Conclusion
The benefits of the jewelry business include the opportunity to make beautiful jewelry products and make a ton of money. This article discussed the various niches of the jewelry business. It also discussed market stats and how to start a jewelry business. The jewelry business is booming and starting one is recommended.